Modeling and mapping the spatiotemporal variation in agricultural drought based on a satellite-derived vegetation health index across the highlands of Ethiopia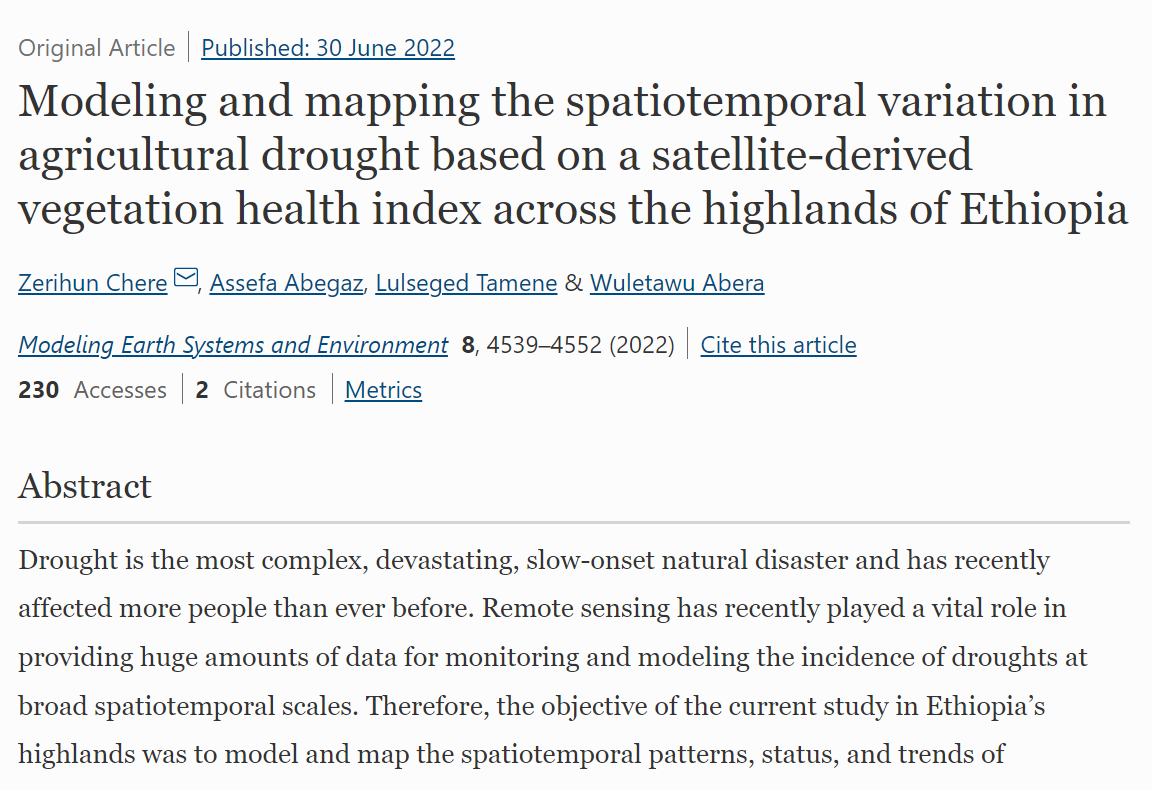 From
Published on

15.07.22

Challenges
Download
Drought is the most complex, devastating, slow-onset natural disaster and has recently affected more people than ever before. Remote sensing has recently played a vital role in providing huge amounts of data for monitoring and modeling the incidence of droughts at broad spatiotemporal scales. Therefore, the objective of the current study in Ethiopia's highlands was to model and map the spatiotemporal patterns, status, and trends of agricultural drought based on the satellite-derived vegetation health index (VHI) on a monthly (June–September) scale from 2004 to 2018. The study used Terra Moderate Resolution Imaging Spectroradiometer (MODIS) Land Surface Temperature and Emissivity 8-Day (MOD11A2) and Enhanced Moderate Resolution Imaging Spectroradiometer Normalized Difference Vegetation Index (eMODIS NDVI) datasets.
During data analysis, the VHI, Mann–(MK) Kendall's trend test, and Sen's slope estimator were used, respectively, to grade agricultural drought, investigate agricultural drought trends, and examine the magnitude of agricultural drought change. Crop yield data for 41 crop growing zones was used to evaluate the capability of VHI for agricultural drought monitoring. The results showed the VHI detected moderate to severe agricultural droughts. Seasonally, 26.3% of the total crop growing areas showed a decreasing VHI trend. In most northern, central, and southeastern Ethiopia, the correlation analyses between VHI and crop yields showed good relationships. The findings of the current study display the importance of mapping the spatiotemporal patterns of agricultural droughts using VHI, aiming at agricultural drought monitoring and establishing early warning and decision-making systems.
Chere, Z.; Abegaz, A.; Tamene, L.; Abera, W.