Rotation, mulch and zero tillage reduce weeds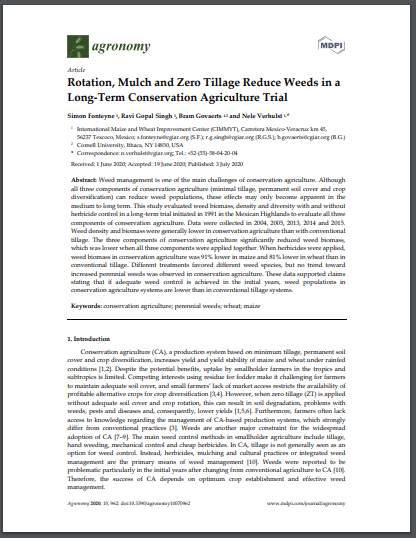 From
Published on

28.07.20

Download
Despite the many benefits of conservation agriculture, uptake by smallholder farmers remains limited. Alongside the struggle to maintain adequate soil cover and limited opportunities for crop diversification, weed management is a major constraint to the widespread adoption of conservation agriculture.
Although all three components of the practice – zero or minimal tillage, permanent soil cover and crop diversification – can reduce weed populations, the effects of these efforts may only become apparent in the medium to long term. As a result, many smallholders are likely to forgo these in favor of hand weeding, cheap herbicides and tillage – which controls weeds in the short term but also brings weed seeds from the seedbank to the soil surface and creates optimum conditions for germination.
In an effort to evaluate the impact of using conservation agriculture practices for weed management, researchers from the International Maize and Wheat Improvement Center (CIMMYT) used data from a long-term trial in the Mexican Highlands to evaluate weed biomass, density and diversity with and without herbicide control.
Results of their study – recently published in Agronomy – show that weed density and biomass were generally much lower in areas where conservation agriculture was practiced, compared to conventional tillage. All three components helped to significantly reduce weed biomass, with an even greater reduction when all three practices were applied together. When herbicides were applied, weed biomass in conservation agriculture was 91% lower in maize and 81% lower in wheat than in conventional tillage.
The authors found that different treatments favored different weed species but did not observe any trend toward increased perennial weeds in conservation agriculture. The data from their study supports claims that if adequate weed control is achieved in the initial years, weed populations in conservation agriculture systems are lower than in conventional tillage ones. Given these weed-controlling effects, the authors posit that these practices are likely to lead to lower herbicide use in the long term – which may be welcome news for smallholders who have reported weed management to be particularly problematic in the initial years after adopting conservation agriculture.
Read the full article in Agronomy: Rotation, Mulch and Zero Tillage Reduce Weeds in a Long‐Term Conservation Agriculture Trial
See more recent publications from CIMMYT researchers: