Progress in seed production of Phaseolus albicarminus Debouck & N. Chaves, by use of grafting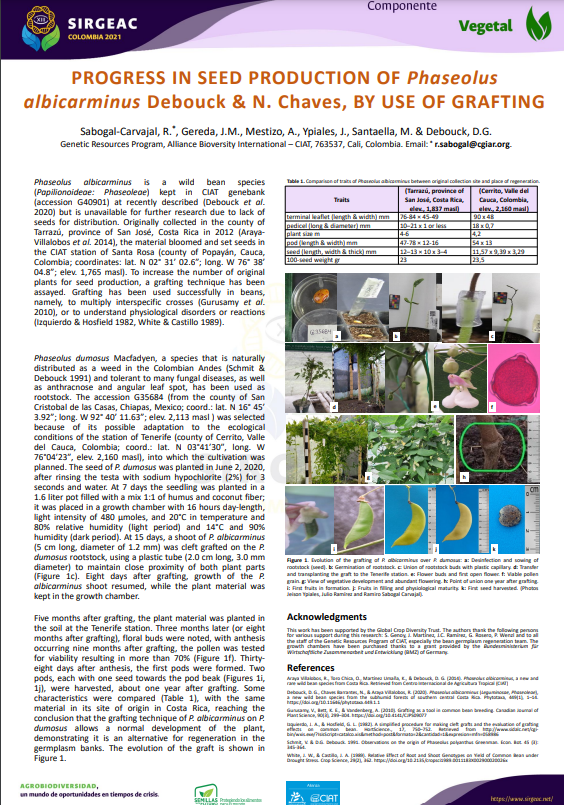 From
Published on

01.12.21

Challenges
Download
Phaseolus albicarminus is a wild bean species (Papilionoideae: Phaseoleae) kept in CIAT genebank
(accession G40901) at recently described (Debouck et al.2020) but is unavailable for further research due to lack of seeds for distribution. Originally collected in the county of Tarrazú, province of San José, Costa Rica in 2012 (ArayaVillalobos et al. 2014), the material bloomed and set seeds in
the CIAT station of Santa Rosa (county of Popayán, Cauca, Colombia; coordinates: lat. N 02° 31' 02.6"; long. W 76° 38' 04.8"; elev. 1,765 masl). To increase the number of original plants for seed production, a grafting technique has been assayed. Grafting has been used successfully in beans,
namely, to multiply interspecific crosses (Gurusamy et al. 2010), or to understand physiological disorders or reactions (Izquierdo & Hosfield 1982, White & Castillo 1989).
Sabogal-Carvajal, Ramiro; Gereda, Javier M.; Mestizo, Alvaro; Ypiales, Jeison; Santaella, Marcela; Debouck, Daniel G.