To what extent do policies from across 5 countries in the Middle East and North Africa region integrate climate-related security concerns and risks?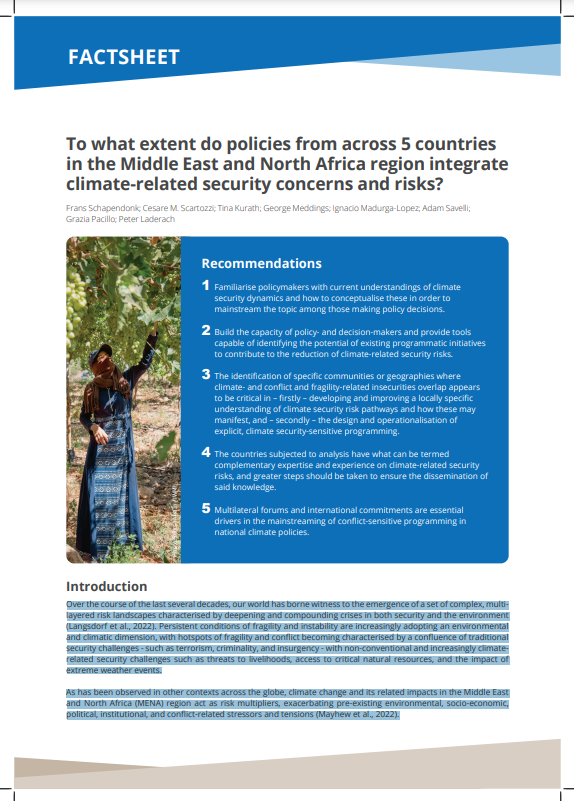 From
Published on

02.02.23

Challenges
Download
Over the course of the last several decades, our world has borne witness to the emergence of a set of complex, multilayered risk landscapes characterised by deepening and compounding crises in both security and the environment (Langsdorf et al., 2022). Persistent conditions of fragility and instability are increasingly adopting an environmental and climatic dimension, with hotspots of fragility and conflict becoming characterised by a confluence of traditional security challenges – such as terrorism, criminality, and insurgency – with non-conventional and increasingly climaterelated security challenges such as threats to livelihoods, access to critical natural resources, and the impact of extreme weather events.
As has been observed in other contexts across the globe, climate change and its related impacts in the Middle East and North Africa (MENA) region act as risk multipliers, exacerbating pre-existing environmental, socio-economic, political, institutional, and conflict-related stressors and tensions (Mayhew et al., 2022).
Schapendonk F., Scartozzi C., Kurath T., Meddings G., Madurga-Lopez I., Savelli A., Pacillo G. and Laderach P.