Perspectives on reducing the national milk deficit and accelerating the transition to a sustainable dairy value chain in Zimbabwe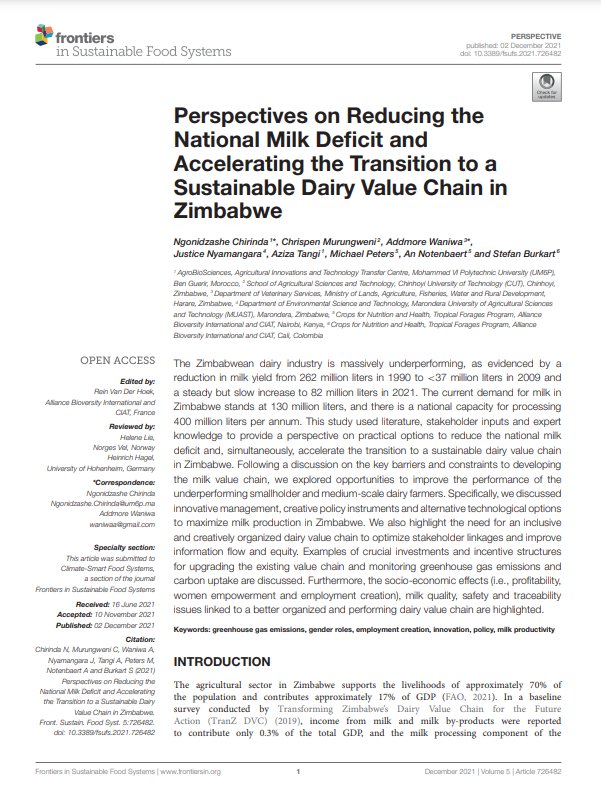 From
Published on

02.12.21

Challenges
Download
The Zimbabwean dairy industry is massively underperforming, as evidenced by a reduction in milk yield from 262 million liters in 1990 to <37 million liters in 2009 and a steady but slow increase to 82 million liters in 2021. The current demand for milk in Zimbabwe stands at 130 million liters, and there is a national capacity for processing 400 million liters per annum. This study used literature, stakeholder inputs and expert knowledge to provide a perspective on practical options to reduce the national milk deficit and, simultaneously, accelerate the transition to a sustainable dairy value chain in Zimbabwe. Following a discussion on the key barriers and constraints to developing the milk value chain, we explored opportunities to improve the performance of the underperforming smallholder and medium-scale dairy farmers.
Specifically, we discussed innovative management, creative policy instruments and alternative technological options to maximize milk production in Zimbabwe. We also highlight the need for an inclusive and creatively organized dairy value chain to optimize stakeholder linkages and improve information flow and equity. Examples of crucial investments and incentive structures for upgrading the existing value chain and monitoring greenhouse gas emissions and carbon uptake are discussed. Furthermore, the socio-economic effects (i.e., profitability, women empowerment and employment creation), milk quality, safety and traceability issues linked to a better organized and performing dairy value chain are highlighted.
Chirinda, Ngonidzashe; Murungweni, Chrispen; Waniwa, Addmore; Nyamangara, Justice; Tang, Aziza; Peters, Michael; Notenbaert, An Maria Omer; Burkart, Stefan.