Performance of elite drought tolerant maize varieties: across eastern and southern Africa, season 2017-18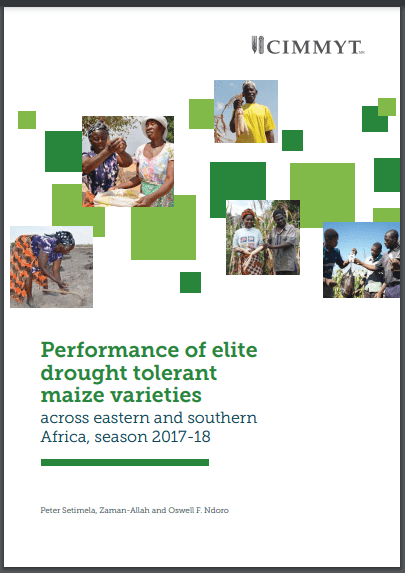 From
Published on

01.01.18

Download
Maize (Zea mays L.) occupies more than 50% of total farmland devoted to crops in sub-Saharan Africa (SSA) (FAO, 2010). It is the main staple food crop in southern Africa, where it provides the highest caloric intake for most of the population (Smale, 1995; Smale et al., 2013). However, compared to maize yields in developed countries, maize yields in SSA remain suboptimally low at 1.5-2 t ha-1 (Vanlauwe et al., 2011). Maize is produced mostly under rainfed conditions in SSA, leading to substantial yield fluctuations from year to year due to frequent droughts and low N application (Cairns et al., 2013a; Shiferaw et al., 2011). Climate projections suggest that maize yields in SSA will decline by up to 10% by 2050 due to future climate scenarios (Tesfaye et al., 2015). Many of the current commercial varieties are susceptible to both heat and drought stress, making farmers vulnerable to food insecurity (Cairns et al., 2013a).
CIMMYT and its partners have been developing and deploying drought tolerant (DT) and heat tolerant maize varieties with high N use efficiency with the aim of reducing smallholder farmers' vulnerability to drought and poor soil conditions (Setimela et al., 2016). CIMMYT's strategy is to simultaneously select maize varieties under optimal (recommended agronomic management/high rainfall conditions), low N and random stress conditions (Bänziger et al., 2006). Conventionally, germplasm development activities are conducted under well managed conditions to ensure high heritabilities/repeatabilities while the few varieties that remain after the selection process are tested under smallholder farmers' conditions. The yields on-station are normally higher compared to yields in farmers' fields due to high variability in farmers. Onstation yields range from 3-10 t ha-1 and on-farmers' fields yield range  to 2.9 t ha-1 respectively (Setimela et al., 2007).
Before new varieties are commercialized, it is important to evaluate them under smallholders' conditions, which are the target environments where they will be deployed. Evaluation under smallholder conditions helps breeders and agronomists measure the real genetic gains obtained through breeding (Masuka et al., 2017). To effectively deploy stress tolerant germplasm, breeders have to take into account smallholder farmers' maize growing conditions. The objective of this study was to compare the yield performance of the new DT hybrids against the best commercial varieties under farmer management conditions that will inform the uptake and release process of new varieties that are anticipated to improve farmers crop yield.