Performance evaluation of an inflatable solar dryer for maize and the effect on product quality compared with direct sun drying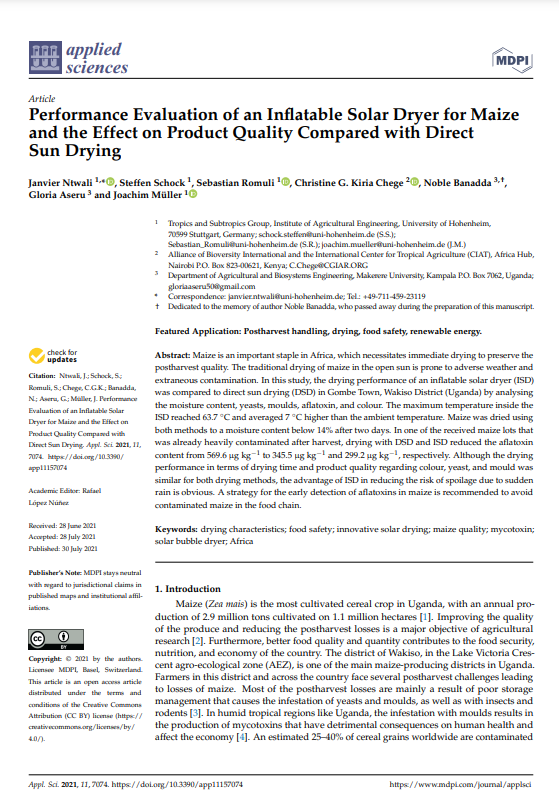 From
Published on

30.07.21

Challenges
Download
Maize is an important staple in Africa, which necessitates immediate drying to preserve the postharvest quality. The traditional drying of maize in the open sun is prone to adverse weather and extraneous contamination.
In this study, the drying performance of an inflatable solar dryer (ISD) was compared to direct sun drying (DSD) in Gombe Town, Wakiso District (Uganda) by analysing the moisture content, yeasts, moulds, aflatoxin, and colour. The maximum temperature inside the ISD reached 63.7 °C and averaged 7 °C higher than the ambient temperature. Maize was dried using both methods to a moisture content below 14% after two days.
In one of the received maize lots that was already heavily contaminated after harvest, drying with DSD and ISD reduced the aflatoxin content from 569.6 μg kg−1 to 345.5 μg kg−1 and 299.2 μg kg−1, respectively. Although the drying performance in terms of drying time and product quality regarding colour, yeast, and mould was similar for both drying methods, the advantage of ISD in reducing the risk of spoilage due to sudden rain is obvious. A strategy for the early detection of aflatoxins in maize is recommended to avoid contaminated maize in the food chain.

Ntwali, Janvier; Schock, Steffen; Romuli, Sebastian; Chege, Christine G. Kiria; Banadda, Noble; Aseru, Gloria; Müller, Joachim.