Shifting perceptions, preferences and practices in the African fruit trade: the case of African plum (Dacryodes edulis) in different cultural and urbanization contexts in Cameroon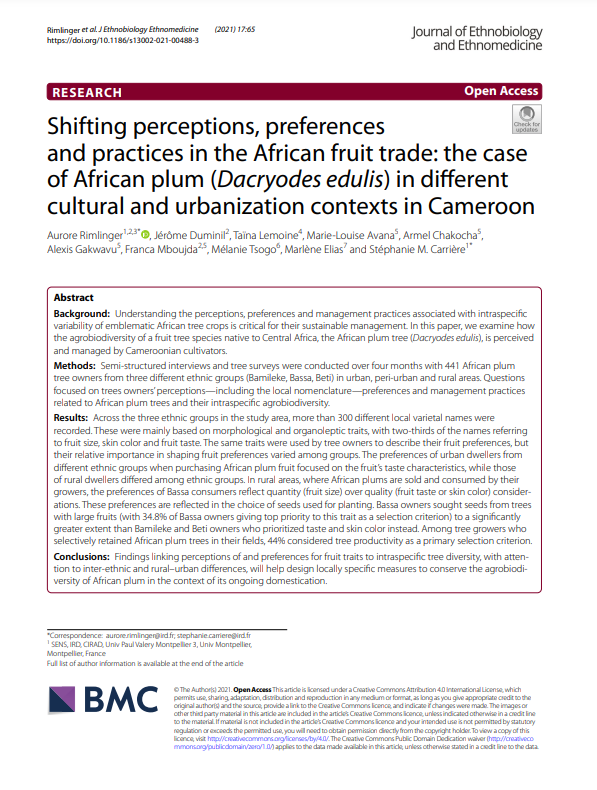 From
Published on

08.11.21

Challenges
Download
Background: Understanding the perceptions, preferences and management practices associated with intraspecifc variability of emblematic African tree crops is critical for their sustainable management. In this paper, we examine how the agrobiodiversity of a fruit tree species native to Central Africa, the African plum tree (Dacryodes edulis), is perceived and managed by Cameroonian cultivators.
Methods: Semi-structured interviews and tree surveys were conducted over four months with 441 African plum tree owners from three diferent ethnic groups (Bamileke, Bassa, Beti) in urban, peri-urban and rural areas. Questions focused on trees owners' perceptions—including the local nomenclature—preferences and management practices related to African plum trees and their intraspecifc agrobiodiversity.
Results: Across the three ethnic groups in the study area, more than 300 diferent local varietal names were recorded. These were mainly based on morphological and organoleptic traits, with two-thirds of the names referring to fruit size, skin color and fruit taste. The same traits were used by tree owners to describe their fruit preferences, but their relative importance in shaping fruit preferences varied among groups. The preferences of urban dwellers from diferent ethnic groups when purchasing African plum fruit focused on the fruit's taste characteristics, while those of rural dwellers difered among ethnic groups. In rural areas, where African plums are sold and consumed by their growers, the preferences of Bassa consumers refect quantity (fruit size) over quality (fruit taste or skin color) considerations. These preferences are refected in the choice of seeds used for planting. Bassa owners sought seeds from trees with large fruits (with 34.8% of Bassa owners giving top priority to this trait as a selection criterion) to a signifcantly greater extent than Bamileke and Beti owners who prioritized taste and skin color instead. Among tree growers who selectively retained African plum trees in their felds, 44% considered tree productivity as a primary selection criterion.
Conclusions: Findings linking perceptions of and preferences for fruit traits to intraspecifc tree diversity, with attention to interethnic and rural–urban diferences, will help design locally specifc measures to conserve the agrobiodiversity of African plum in the context of its ongoing domestication.
Rimlinger, A.; Duminil, J.; Lemoine, T.; Avana, M.-L.; Chakocha, A.; Gakwavu, A.; Mboujda, F.; Tsogo, M.; Elias, M.; Carrière, S.M.