Nepal seed sector overview in the context of the National Seed Vision, 2013–2025: status, implementation gaps and the way forward.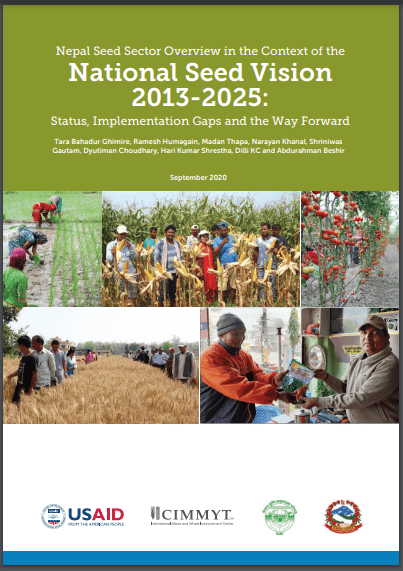 From
Published on

01.01.20

Download
The importance of seeds in crop productivity, food and nutritional security and livelihoods is well
recognized in developing countries. The Government of Nepal has recognized seed sector in its programs
and policies including the Agriculture Development Strategy. Policy instruments have been updated to
make the country's seed sector more competitive and robust. The National Seed Vision 2013-2025 (NSV) is a seed sector policy instrument of the government to develop a competitive and inclusive seed sector. As more than a half of NSV's implementation period has passed, it is important to assess the progress made towards the vision's targets and to identify any major gaps in its implementation. The required information for this report was collected from literature reviews, field observation, interviews and focus group discussions with seed value chain stakeholders.
The results show that good progress has been made towards source seed production and establishing seed processing facilities. However, there has only been limited progress on the important areas of varietal research and development, the market development of new varieties, enhancing the capacity of public and private sector actors on hybrid variety development, and exporting vegetable seed. Stakeholders identified several gaps in NSV implementation including the lack of a seed vision coordination cell, limited public private partnerships, limited investment, and a limited number of trained human resources – primarily plant breeders and seed technologies. To close these gaps and to achieve the NSV's goals, a fully accountable NSV coordinating committee should be formed both at national and province level. This committee should prepare and implement action plan for the next five years in consultation with the stakeholders, with a focus on hybrid variety development and popularization, capacity building, seed financing schemes, buffer stock establishment and smart policy implementation.