Nanopore-Based Complete Genome Sequence of a Sri Lankan Cassava Mosaic Virus (Geminivirus) Strain from Thailand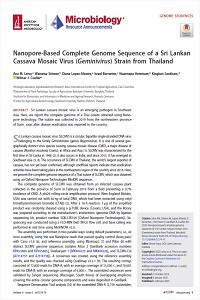 From
Published on

06.02.20

Challenges
Nanopore-Based Complete Genome Sequence of a Sri Lankan Cassava Mosaic Virus (Geminivirus) Strain from Thailand
Leiva Sandoval, Ana Maria; Siriwan, Wanwisa; Lopez-Alvarez, Diana; Barrantes, Israel; Hemniam, Nuannapa; Saokham, Kingkan; Cuellar, Wilmer J.
Sri Lankan cassava mosaic virus is an emerging pathogen in Southeast Asia. Here, we report the complete genome of a Thai isolate obtained using Nanopore technology. The isolate was collected in 2019 from the northeastern province of Surin, soon after disease eradication was reported in the country.