Maize and wheat science to sustainably feed the world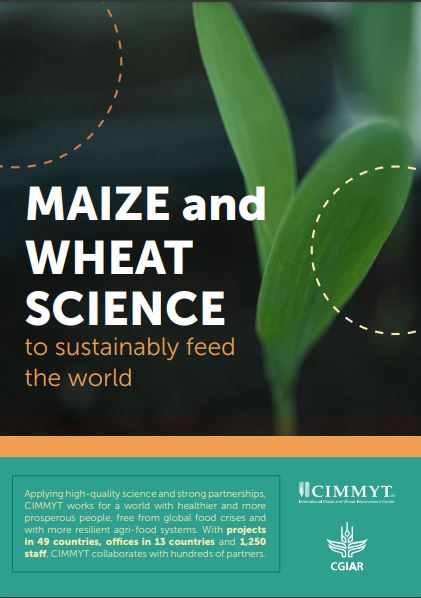 From
Published on

28.07.21

Download
As the world turns its attention to the policy-shaping discussions during this week's Pre-Summit of the UN Food System Summit, the need for science and innovation to advance the transformation of food, land and water systems is clear.
The International Maize and Wheat Improvement Center (CIMMYT), with its 50-year track record of impact, success and high return on investment, is essential to these efforts.
Our new institutional brochure, Maize and wheat science to sustainably feed the world, links CIMMYT's mission, vision and excellence in science to the urgent needs of a world where an estimated tenth of the global population — up to 811 million people — are undernourished.
CIMMYT is also a crucial wellspring of response capacity to CGIAR — the largest global, publicly funded research organization scaling solutions for food, land and water system challenges.
Maize and wheat science to sustainably feed the world explains why we do what we do in light of these challenges.
CIMMYT leads maize and wheat research for food systems that deliver affordable, sufficient, and healthy diets produced within planetary boundaries.
Our research is focused on smallholder farmers in low- and middle-income countries and on improving the livelihoods of people who live on less than $2 a day.
CIMMYT science reaches them through innovation hubs, appropriate technologies, sustainable sourcing, and helps to address their needs and challenges through public policy guidance.
Applying high-quality science and strong partnerships, CIMMYT works for a world with healthier and more prosperous people, free from global food crises and with more resilient agri-food systems.
View and download the new CIMMYT Brochure.