Towards a low-emission agrifood sector in the People's Republic of China: A country profile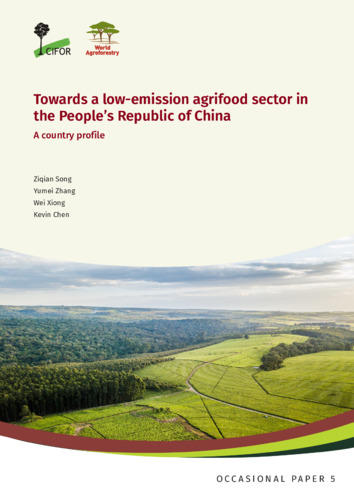 From
Published on

13.09.23
The global food system is responsible for 23 – 42% of total net anthropogenic emissions. The food systems of all countries need to be transformed to lower their emissions while producing sufficient, nutritious and healthy food. The Low-Emissions Food Systems (Mitigate+) Initiative aims to offer a comprehensive, evidence-based and holistic approach to reducing agrifood systems emissions. It explores possible pathways that reduce greenhouse gas emissions while enhancing food security and nutrition and livelihoods and preserving the environment. In this context, a set of country profiles are being developed opening avenues towards low-emission food systems. The present document focuses on China's agrifood system.
Net greenhouse gas emissions from China's agrifood system reached 1.9 GtCO2eq in 2020, accounting for 14.2% of nationwide total greenhouse gas emissions. China pledged to cut its CO2 emissions by 65% between 2005 and 2030, to reach an emission peak before 2030 and achieve carbon neutrality before 2060. To feed its large population while reducing its carbon footprint, China must transition to a low-emission agricultural model. This report illustrates the progress made by China towards this goal and it discusses the remaining challenges. Three main categories of measures have been identified that are advancing low-emission agriculture in China: (i) adopt protective cultivation practices; (ii) enhance carbon sequestration in forest, rangeland and wetland ecosystems; and (iii) develop innovative low-emission technologies and practices. This document formulates seven specific policy recommendations to address current challenges and accelerate the needed transition towards low-emission agriculture in China.
Song, Z.; Zhang, Y.; Xiong, W.; Chen, K.