Joint adoption of rice technologies among Bolivian farmers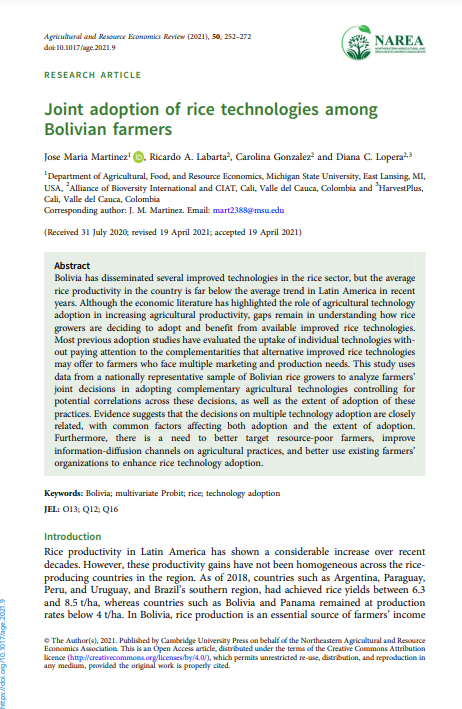 From
Published on

01.05.21

Challenges
Download
Bolivia has disseminated several improved technologies in the rice sector, but the average rice productivity in the country is far below the average trend in Latin America in recent years. Although the economic literature has highlighted the role of agricultural technology adoption in increasing agricultural productivity, gaps remain in understanding how rice growers are deciding to adopt and benefit from available improved rice technologies.
Most previous adoption studies have evaluated the uptake of individual technologies without paying attention to the complementarities that alternative improved rice technologies may offer to farmers who face multiple marketing and production needs. This study uses data from a nationally representative sample of Bolivian rice growers to analyze farmers' joint decisions in adopting complementary agricultural technologies controlling for potential correlations across these decisions, as well as the extent of adoption of these practices. Evidence suggests that the decisions on multiple technology adoption are closely related, with common factors affecting both adoption and the extent of adoption. Furthermore, there is a need to better target resource-poor farmers, improve information-diffusion channels on agricultural practices, and better use existing farmers' organizations to enhance rice technology adoption.
Martínez, Jose; Labarta, Ricardo; Gonzalez, Carolina; Lopera, Diana.