Isolation and characterization of KDML105 aromatic rice rhizobacteria producing indole-3-acetic acid: impact of organic and conventional paddy rice practices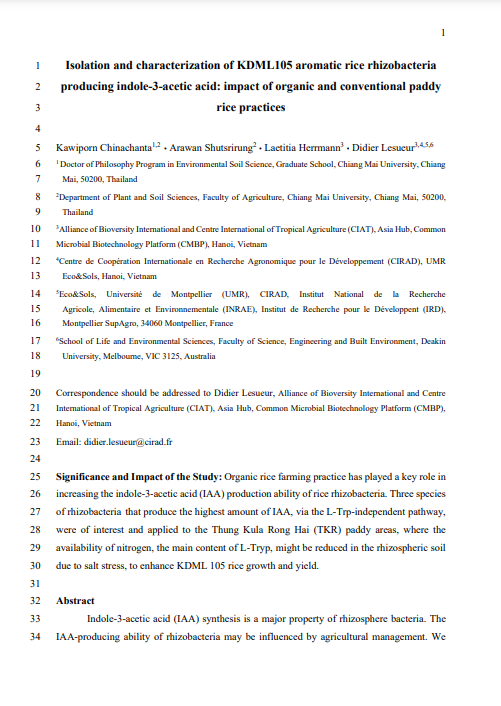 From
Published on

16.11.21

Challenges
Download
Indole-3-acetic acid (IAA) synthesis is a major property of rhizosphere bacteria. The IAA-producing ability of rhizobacteria may be influenced by agricultural management. We therefore evaluated the IAA-producing potential of rhizobacteria isolated during organic rice farming (ORF) and conventional rice farming (CRF) in Thung Kula Rong Hai areas of Thailand. The results indicated that ORF gave a significantly higher percentage of IAA producers (95.8%) than CRF (69.9%).
The average IAA values of the ORF isolates were around two times higher than those of the CRF isolates both in the absence (12.8 and 5.8 μg IAA mL-1 , respectively) and presence of L-tryptophan (L-Trp) (35.2 and 17.2 μg IAA mL-1 respectively). The 16S rRNA gene sequence analysis indicated that the 23 selected isolates belonged to 8 different genera—Sinomonas sp., Micrococcus sp., Microbacterium sp., Fictibacillus sp., Bacillus sp., Burkholderia sp., Leclercia sp. and Enterobacter sp. Interestingly, only three ORF isolates i.e., ORF15-20 (Micrococcus sp.), ORF15-21 (Sinomonas sp.) and ORF15-23 (Sinomonas sp.), exhibited high IAA production ability without L-Trp (128.5, 160.8 and 174.7 μg IAA mL-1, respectively). Meanwhile, a slight decrease in IAA production with L-Trp was noticed, suggesting the L-Trp was not used for the IAA synthesis of these isolates. Biopriming with rhizobacterial isolates significantly enhanced the rate of germination of KDML 105 rice seeds compared to the control.
Chinachanta, Kawiporn; Shutsrirung, Arawan; Herrmann, Laetitia; Lesueur, Didier.