India's rainfed sorghum improvement: Three decades of genetic gain assessment for yield, grain quality, grain mold and shoot fly resistance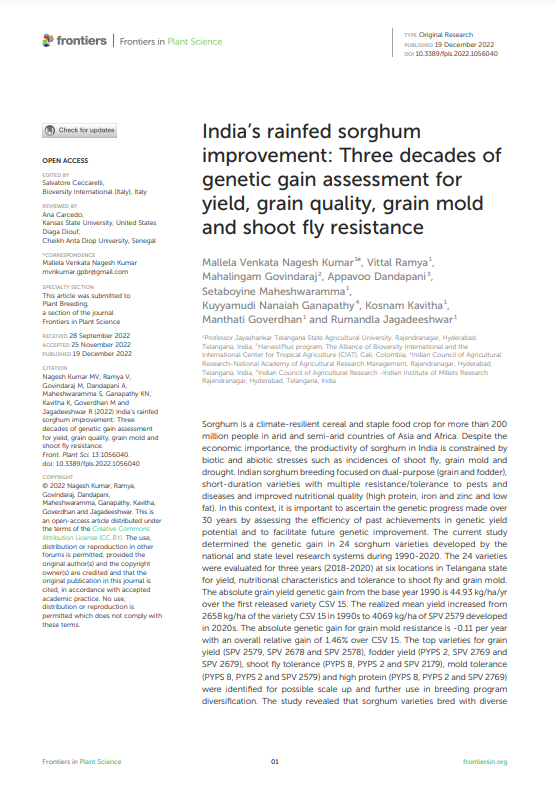 From
Published on

13.02.23

Challenges
Download
Sorghum is a climate-resilient cereal and staple food crop for more than 200 million people in arid and semi-arid countries of Asia and Africa. Despite the economic importance, the productivity of sorghum in India is constrained by biotic and abiotic stresses such as incidences of shoot fly, grain mold and drought. Indian sorghum breeding focused on dual-purpose (grain and fodder), short-duration varieties with multiple resistance/tolerance to pests and diseases and improved nutritional quality (high protein, iron and zinc and low fat). In this context, it is important to ascertain the genetic progress made over 30 years by assessing the efficiency of past achievements in genetic yield potential and to facilitate future genetic improvement.
The current study determined the genetic gain in 24 sorghum varieties developed by the national and state level research systems during 1990-2020. The 24 varieties were evaluated for three years (2018-2020) at six locations in Telangana state for yield, nutritional characteristics and tolerance to shoot fly and grain mold. The absolute grain yield genetic gain from the base year 1990 is 44.93 kg/ha/yr over the first released variety CSV 15. The realized mean yield increased from 2658 kg/ha of the variety CSV 15 in 1990s to 4069 kg/ha of SPV 2579 developed in 2020s.
The absolute genetic gain for grain mold resistance is -0.11 per year with an overall relative gain of 1.46% over CSV 15. The top varieties for grain yield (SPV 2579, SPV 2678 and SPV 2578), fodder yield (PYPS 2, SPV 2769 and SPV 2679), shoot fly tolerance (PYPS 8, PYPS 2 and SPV 2179), mold tolerance (PYPS 8, PYPS 2 and SPV 2579) and high protein (PYPS 8, PYPS 2 and SPV 2769) were identified for possible scale up and further use in reeding program diversification. The study revealed that sorghum varieties bred with diverse genetic backgrounds such as landraces and with tolerance to pests and diseases had stable yield performance. Application of genomics and other precision tools can double genetic gains for these traits to strengthen sorghum cultivation in rainfed areas serving food and nutrition security.
Venkata Nagesh Kumar, M.; Ramya, V.; Govindaraj, M.; Dandapani, A.; Maheshwaramma, S.; Ganapathy, K. N.; Kavitha, K.; Goverdhan, M.; Jagadeeshwar, R.