Growth performance, survivability and profitability of improved smallholder chicken genetics in Nigeria: A COVID-19 intervention study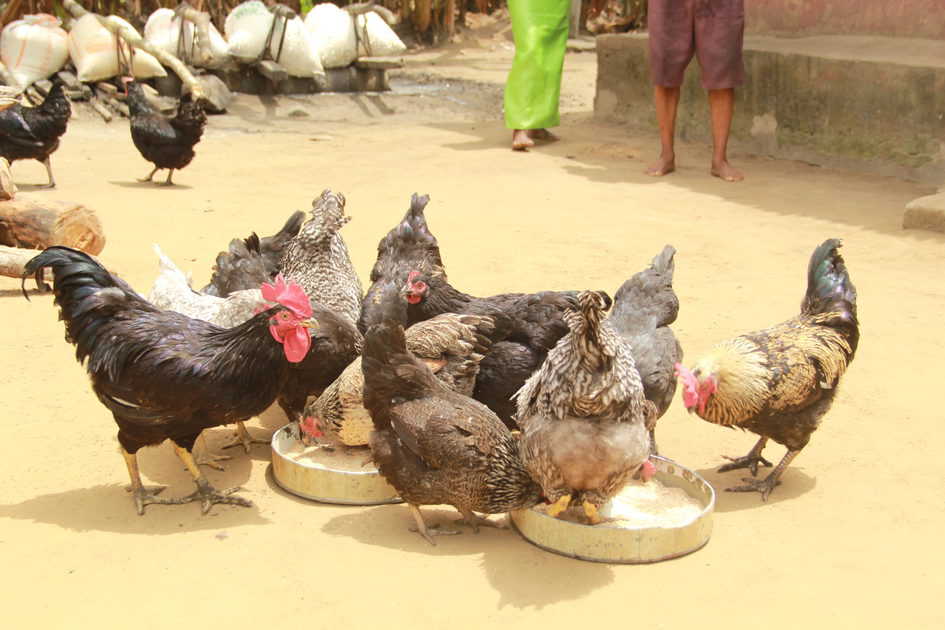 From
Published on

31.07.23

Challenges
The impact of COVID-19 pandemic on smallholder farming households includes increased poverty, and loss of livelihoods. Provision of livestock to smallholder farming households is a helpful intervention to mitigate this impact.
This study provided a total of 150 smallholder poultry farmers, randomly selected from three states (Kebbi, Nasarawa, and Imo) in Nigeria, with ten 5-week-old chickens (mixed sexes) each, of either FUNAAB Alpha or Noiler chicken genetics.
The improved, dual-purpose chickens were evaluated for growth performance, survivability and profitability. The birds were managed under semi-scavenging production system.
Body weight, mortality, and cost of production were recorded every 4 weeks until 21 weeks of age. Profitability was a function of the cost of production, and the selling price for live-birds (cocks).
Body weight of Noiler (1,927 g) birds was not significantly (p > .05) higher than FUNAAB Alpha (1,792 g) at 21 weeks.
Agroecology and genetics had significant (p < .05) effects on growth performance and survivability.
Survivability of FUNAAB Alpha was higher (p < .05) than Noiler, with Nasarawa (81%–96%), having the highest (p < .0001) survival rate compared to Imo (62%–81%), and Kebbi (58%–75%).
At 21 weeks, the number of cocks and hens differed significantly (p < .05) within the states (Imo: 2.4 ± .2 and 5.4 ± .3; Kebbi: 2.6 ± .2 and 5.5 ± .3; and Nasarawa: 2.9 ± .2 and 5.8 ± .3).
Nasarawa (NGN 7,808; USD 19) ranked best for profitability, followed by Kebbi (NGN 6,545; USD 16) and Imo (NGN 5,875; USD 14).
Overall, this study demonstrates that provision of improved chickens to vulnerable smallholder farming households in Nigeria holds great potential for economic growth, and resilience during emergencies, such as the COVID-19 pandemic.
Citation
Bamidele, O., Akinsola, O.M., Yakubu, A., Hassan, W.A., Ogundu, U.E. and Amole, T. 2023. Growth performance, survivability and profitability of improved smallholder chicken genetics in Nigeria: A COVID-19 intervention study. Frontiers in Genetics 13: 1033654.
Photo: Chickens on a farm in Isiokpo, Nigeria (ILRI/ACGG Nigeria)