Greenhouse gas emissions from piggery and biogas digesters in the north of Vietnam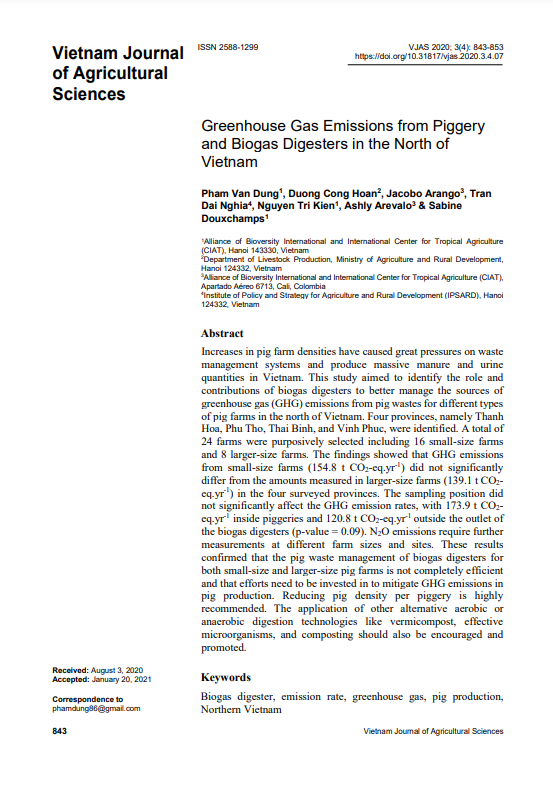 From
Published on

31.12.20

Challenges
Download
Increases in pig farm densities have caused great pressures on waste management systems and produce massive manure and urine quantities in Vietnam. This study aimed to identify the role and contributions of biogas digesters to better manage the sources of greenhouse gas (GHG) emissions from pig wastes for different types of pig farms in the north of Vietnam. Four provinces, namely Thanh Hoa, Phu Tho, Thai Binh, Vinh Phuc, were identified.
A total of 24 farms were purposively selected including 16 small-size farms and 8 larger-size farms. The findings showed that GHG emissions from small-size farms (154.8 t CO2-eq.yr-1) did not significantly differ from the amounts measured in larger-size farms (139.1 t CO2-eq.yr-1) in the four surveyed provinces. The sampling position did not significantly affect the GHG emission rates, with 173.9 t CO2-eq.yr-1 inside piggeries and 120.8 t CO2-eq.yr-1 outside the outlet of the biogas digesters (p-value=0.09). N2O emissions require further measurements at different farm sizes and sites. These results confirmed that the pig waste management of biogas digesters for both small-size and larger-size pig farms is not completely efficient and that efforts need to be invested in to mitigate GHG emissions in pig production. Reducing pig density per piggery is highly recommended. The application of other alternative aerobic or anaerobic digestion technologies like vermicompost, effective microorganisms, and composting should also be encouraged and promoted.

Pham Van Dung; Duong Cong Hoan; Arango, Jacobo; Tran Dai Nghia; Nguyen Tri Kien; Arevalo, Ashly; Douxchamps, Sabine.