Good practices for agrobiodiversity management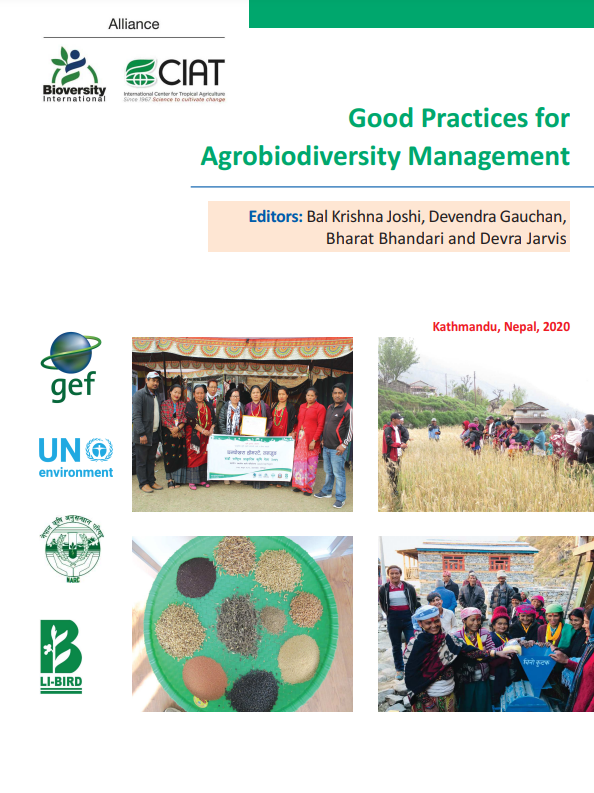 From
Published on

24.09.20

Challenges
Download

Native agricultural genetic resources have been generally under-valued, therefore, some initiatives have been taken through Global In-situ agrobiodiversity project joinly implemented by NARC, LI-BIRD and Bioversity International since 1997 in Nepal for conservation and sustainable use of agrobiodiversity on-farm. Global in-situ project (1997-2006) has developed many good practices for agrobiodiversity management which are published in On-farm Management of Agricultural Biodiversity in Nepal: Good Practices 2006 (B Sthapit, P Shrestha and M Upadyay, eds).
A good practice is a process or methodology or action that is effective and successful; environmentally, economically and socially sustainable; technically feasible; inherently participatory; replicable and adaptable, that has been proven to work well and produce good results. It is a successful experience tested and validated in achieving its objective. For further widening the scope of good practices in the country, NAGRC, LI-BIRD and Bioversity International have generated, tested and adapted a number of good practices in four sites, Jungu, Dolakha; Ghapanpokhara, Lamjung; Hanku, Jumla; and Chippra, Humla through a project Integrating Traditional Crop Genetic Diversity into Technology: Using a Biodiversity Portfolio Approach to Buffer against Unpredictable Environmental Change in the Nepal Himalayas , commonly called as Local Crop Project (LCP) from 2014 to 2019.
Good practices listed here are well tested and adapted by the communtiies in the fields, shown their positive impact, shared and discussed among the relevant stakholders. Project team have tested and validated many good practices, however, we have included 22 good practices that are worth sharing for its dessimination and mainstreaming. These practices, though specially based on eight crops (rice, bean, barley, foxtail millet, proso millet, amaranth and buckwheat), can be widely applicable to other agricultural genetic ressources in different locations, national and globally.
Joshi, B.K.; Gauchan, D.; Bhandari, B.; Jarvis, D.