The role of gender and institutional dynamics in adapting seed systems to climate change: case studies from Kenya, Tanzania and Uganda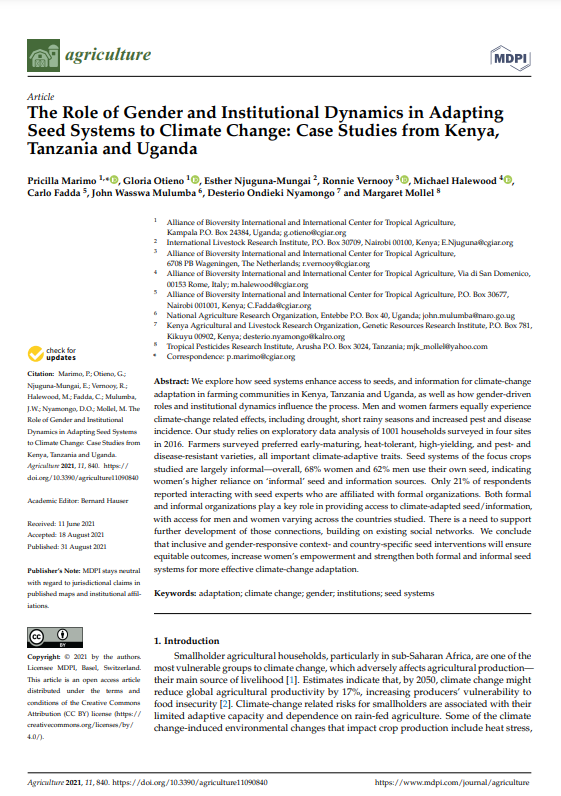 From
Published on

31.08.21

Challenges
Download
We explore how seed systems enhance access to seeds, and information for climate-change adaptation in farming communities in Kenya, Tanzania and Uganda, as well as how gender-driven roles and institutional dynamics influence the process.
Men and women farmers equally experience climate-change related effects, including drought, short rainy seasons and increased pest and disease incidence. Our study relies on exploratory data analysis of 1001 households surveyed in four sites in 2016. Farmers surveyed preferred early-maturing, heat-tolerant, high-yielding, and pest- and disease-resistant varieties, all important climate-adaptive traits.
Seed systems of the focus crops studied are largely informal—overall, 68% women and 62% men use their own seed, indicating women's higher reliance on 'informal' seed and information sources. Only 21% of respondents reported interacting with seed experts who are affiliated with formal organizations. Both formal and informal organizations play a key role in providing access to climate-adapted seed/information, with access for men and women varying across the countries studied. There is a need to support further development of those connections, building on existing social networks. We conclude that inclusive and gender-responsive context- and country-specific seed interventions will ensure equitable outcomes, increase women's empowerment and strengthen both formal and informal seed systems for more effective climate-change adaptation.

Marimo, Pricilla; Otieno, Gloria; Njuguna-Mungai, Esther; Vernooy, Ronnie; Halewood, Michael; Fadda, Carlo; Mulumba, Wasswa Mulumba; Nyamongo, Desterio Ondieki; Mollel, Margaret.