Fruit and vegetable biodiversity for nutritionally diverse diets: Challenges, opportunities, and knowledge gaps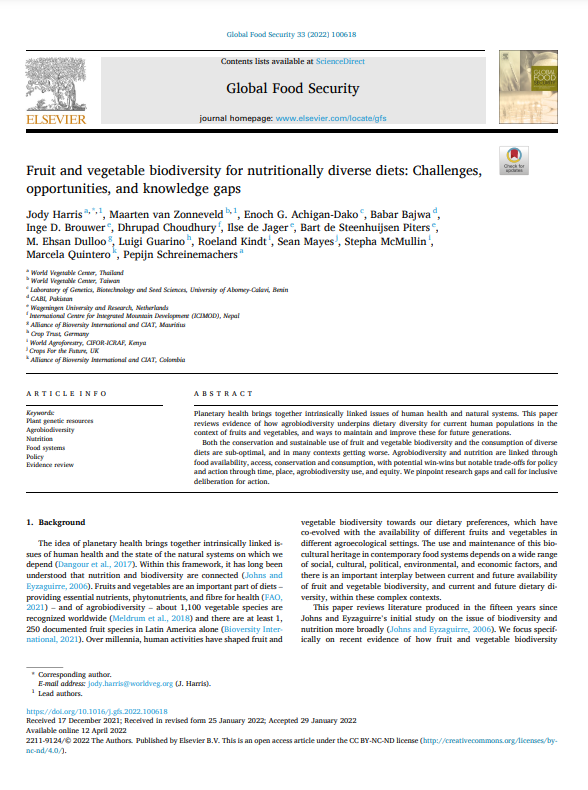 From
Published on

19.06.22

Challenges
Download
Planetary health brings together intrinsically linked issues of human health and natural systems. This paper reviews evidence of how agrobiodiversity underpins dietary diversity for current human populations in the context of fruits and vegetables, and ways to maintain and improve these for future generations.
Both the conservation and sustainable use of fruit and vegetable biodiversity and the consumption of diverse diets are sub-optimal, and in many contexts getting worse. Agrobiodiversity and nutrition are linked through food availability, access, conservation and consumption, with potential win-wins but notable trade-offs for policy and action through time, place, agrobiodiversity use, and equity. We pinpoint research gaps and call for inclusive deliberation for action.
Harris, J.; van Zonnevel, M.; Achigan-Dako, E.G.; Bajwa, B.; Brouwer, I.D.; Choudhury, D.; de Jager, I.; de Steenhuijsen Piters, B.; Dulloo, M.E.; Guarino, L.; Kindt, R.; Mayes, S.; McMullin, S.; Quintero, M.; Schreinemachers, P.