Food security, nutrition and health: implications for maize and wheat research and development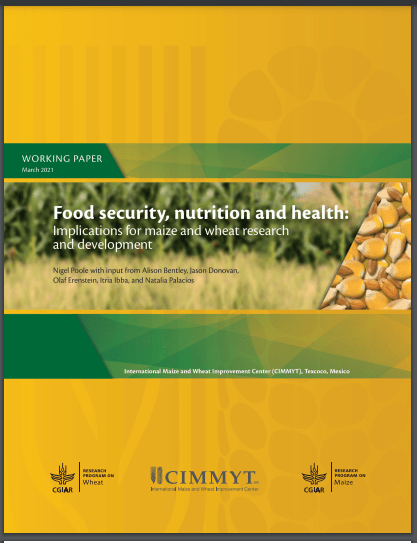 From
Published on

01.01.21

Download
This document summarizes a vast literature and multiple insights concerning agricultural research and development (R&D) for food security, nutrition and health, with a specific focus on maize and wheat. Such agrinutrition research encompasses agrifood systems from farm production through the food system to food consumption. To help the reader navigate this vast agrifood landscape, the report is divided into relatively independent sections, each headed by key points that serve as stepping-stones for readers who want to know the overall direction of thinking. Other readers will be able to focus on individual sections and the literature to which reference is made.
We hope this contribution and its conclusions stimulate debate and further agrinutrition research that include staple cereals. Our primary focus on maize and wheat reflects the mandate of the International Maize and Wheat Improvement Center (CIMMYT), but many of these considerations may also apply to rice and other cereal grains. In the end we see this working paper and its conclusions as a work in progress that will benefit from the further input of specialists in CIMMYT, the CGIAR and the broader agrinutrition community, whose evaluation of and reflections on content within their disciplinary areas should help to elaborate a refined research agenda for maize and wheat up to and beyond 2030.
Some of this material has been recently published in the journal Food Policy (Poole et al. 2021). The present working paper goes beyond the confines of a journal paper and allows for more comprehensive coverage. Other short companion pieces aim to enhance reach, e.g. Poole (2021). We thereby aim to help rebalance the agrinutrition research agenda for maize and wheat. However, we reiterate that "cereals and 'nutrient-rich foods' are complementary in agrinutrition and require additional research and resources, and increased attention for one should not replace the other" (Poole et al. 2021).