The extent and economic significance of cultivated forage crops in developing countries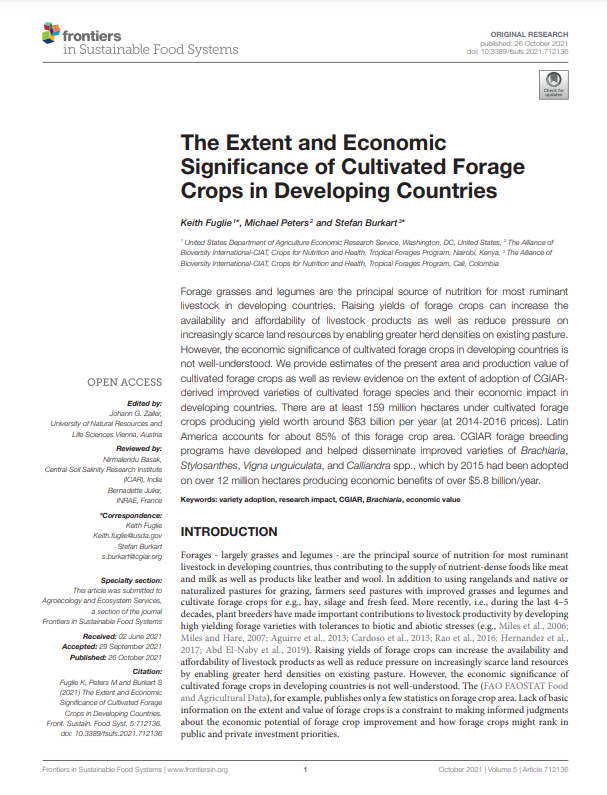 From
Published on

26.10.21

Challenges
Download
Forage grasses and legumes are the principal source of nutrition for most ruminant livestock in developing countries.
Raising yields of forage crops can increase the availability and affordability of livestock products as well as reduce pressure on increasingly scarce land resources by enabling greater herd densities on existing pasture. However, the economic significance of cultivated forage crops in developing countries is not well-understood. We provide estimates of the present area and production value of cultivated forage crops as well as review evidence on the extent of adoption of CGIAR- derived improved varieties of cultivated forage species and their economic impact in developing countries. There are at least 159 million hectares under cultivated forage crops producing yield worth around $63 billion per year (at 2014-2016 prices).
Latin America accounts for about 85% of this forage crop area. CGIAR forage breeding programs have developed and helped disseminate improved varieties of Brachiaria, Stylosanthes, Vigna unguiculata, and Calliandra spp., which by 2015 had been adopted on over 12 million hectares producing economic benefits of over $5.8 billion/year.

Fuglie, Keith; Peters, Michael; Burkart, Stefan