Erratum: Author Correction: Genetic structure analysis and identifying key founder inbred lines in diverse elite sub-tropical maize inbred lines (Scientific reports (2023) 13 1 (11695))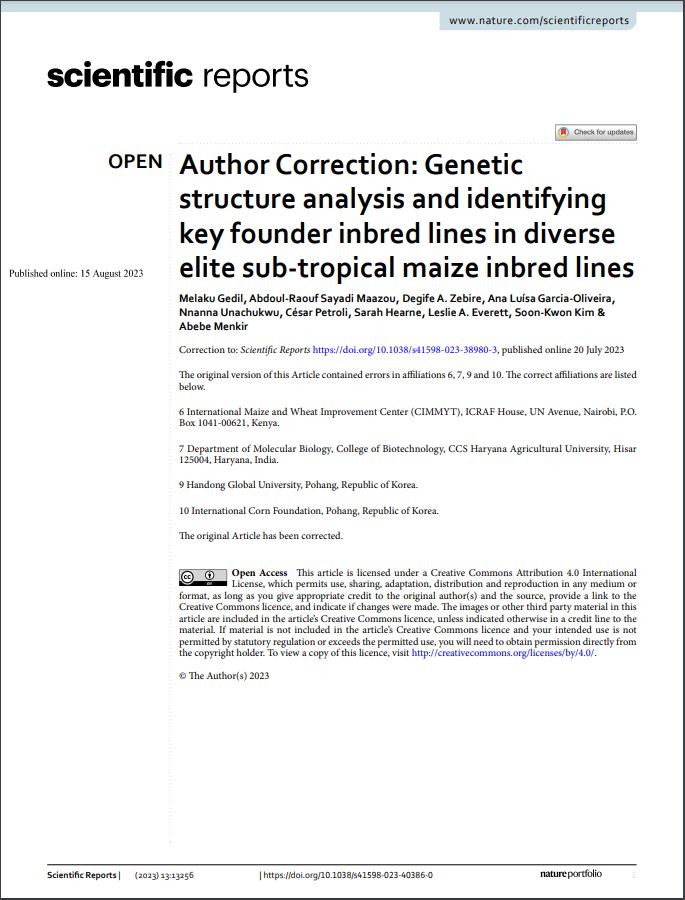 From
Published on

01.01.23

Download
Correction to: Scientific Reports https://doi.org/10.1038/s41598-023-38980-3, published online 20 July 2023. The original version of this Article contained errors in affiliations 6, 7, 9 and 10. The correct affiliations are listed below.
6 International Maize and Wheat Improvement Center (CIMMYT), ICRAF House, UN Avenue, Nairobi, P.O. Box 1041-00621, Kenya.
7 Department of Molecular Biology, College of Biotechnology, CCS Haryana Agricultural University, Hisar 125004, Haryana, India.
9 Handong Global University, Pohang, Republic of Korea.
10 International Corn Foundation, Pohang, Republic of Korea.
The original Article has been corrected.