Assessing the environmental impacts of smallholder dairy intensification through improved feeding strategies in the Southern Highlands of Tanzania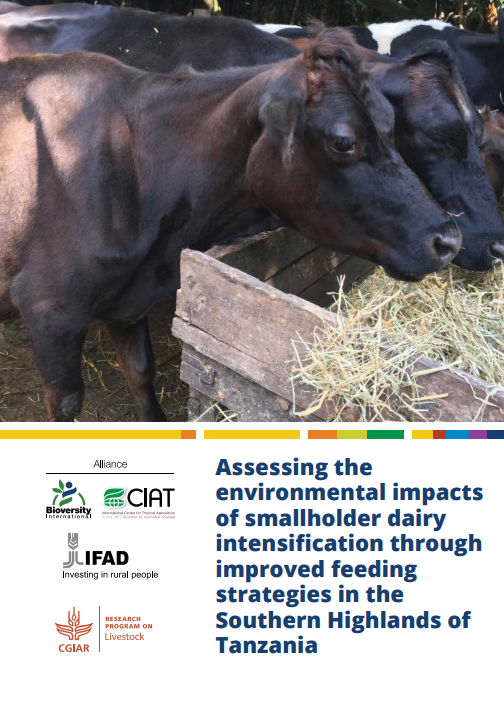 From
Published on

01.07.21

Challenges
Tanzania's livestock sector contributes 7.4% of the county's gross domestic product and provides employment to twenty-two-and-a-half million people.
However, the sector is Tanzania's second-highest emitter of greenhouse gases (GHG) and negatively affects other ecosystem services. This study aims to assess the environmental impacts of different livestock intensification pathways in smallholder farms in the Southern Highlands of Tanzania.
Data was collected through a literature review, household surveys, key informant interviews, and focus group discussions. The Comprehensive Livestock Environmental Assessment for improved Nutrition, a secured Environment and sustainable Development along livestock value chains (CLEANED) tool was applied to estimate the potential environmental footprints associated with current farming practices and interventions to foster improved feeding and heightened productivity in terms of land, soil health, water, and GHG emissions. The study's baseline results show higher absolute land, soil, and GHG emission footprints, but lower environmental impacts per unit of output across the case study farms.
An improved wet season has an insignificant impact on feed basket quality, but on improving dry season, average feed basket quality is enhanced by an average of 67%. An increase of 20 % in productivity is the level of investment at which most environmental efficiency goals are met.
At 20%, several environmental footprints can be lessened by 14% across dairy-intensifying farms: land
required (ha/MT FPCM), erosion (Kg soil/Kg FPCM), water use (m3/kg milk), and GHG emission intensity (Kg C02eq/ kg milk). However, each farm requires an average of 3% more land to enable this productivity boost.
Generally, all this study's scenarios result in neutral or positive environmental change, except for the absolute increases in land requirements. This study's recommendations can inform dairy policy development in Tanzania and help development partners to promote climate-smart dairy
Mwema, Emmanuel; Mukiri, Jessica; Nzogela, Beatus; Paul, Birthe K.; Notenbaert, An Maria Omer.