Enset‐based agricultural systems in Ethiopia: A systematic review of production trends, agronomy, processing and the wider food security applications of a neglected banana relative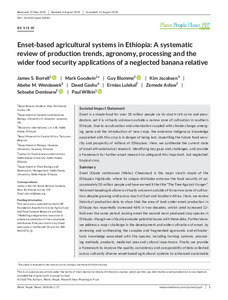 From
Published on

01.01.20
Enset‐based agricultural systems in Ethiopia: A systematic review of production trends, agronomy, processing and the wider food security applications of a neglected banana relative
Borrell, J.S.; Goodwin, M.; Blomme, G.; Jacobsen, K.; Wendawek, A.M.; Gashu, D.; Lulekal, E.; Asfaw, Z.; Demissew, S.
Enset (Ensete ventricosum (Welw.) Cheesman) is the major starch staple of the Ethiopian Highlands, where its unique attributes enhance the food security of approximately 20 million people and have earned it the title "The Tree Against Hunger". Yet enset‐based agriculture is virtually unknown outside of its narrow zone of cultivation, despite growing wild across much of East and Southern Africa. Here, we review historical production data to show that the area of land under enset production in Ethiopia has reportedly increased 46% in two decades, whilst yield increased 12‐fold over the same period, making enset the second most produced crop species in Ethiopia—though we critically evaluate potential issues with these data. Furthermore, we address a major challenge in the development and wider cultivation of enset, by reviewing and synthesizing the complex and fragmented agronomic and ethnobotanic knowledge associated with this species; including farming systems, processing methods, products, medicinal uses and cultural importance. Finally, we provide a framework to improve the quality, consistency and comparability of data collected across culturally diverse enset‐based agricultural systems to enhanced sustainable use of this neglected starch staple. In conclusion, we discuss the challenges and opportunities for enset cultivation beyond its restricted distribution, and the regional food security potential it could afford smallholders elsewhere in Southern and East Africa.