Evaluation de l'efficacité de la macro-propagation des cultivars de bananiers les plus préférés au Kongo Central, en RD Congo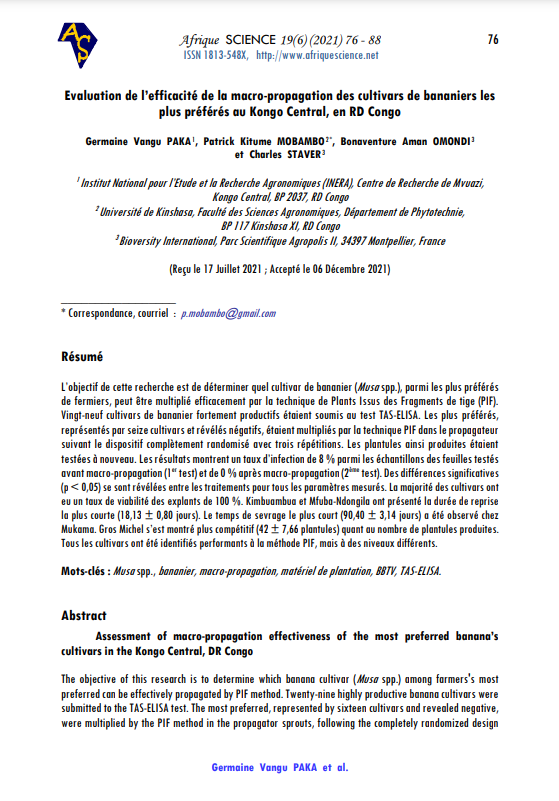 From
Published on

06.12.21

Challenges
Download
English: In the framework of the community management of Banana Buncy top disease in Congo, we tested the seed recovery option using positive selection of asymptomatic plants and macropropagation as an alternative seed source in BBTD affected landscapes. Varieties of banana and plantain were then compared based on the performance of community based micropropagation units and this is described in this article (published in French).
L'objectif de cette recherche est de déterminer quel cultivar de bananier (Musa spp.), parmi les plus préférés de fermiers, peut être multiplié efficacement par la technique de Plants Issus des Fragments de tige (PIF). Vingt-neuf cultivars de bananier fortement productifs étaient soumis au test TAS-ELISA. Les plus préférés, représentés par seize cultivars et révélés négatifs, étaient multipliés par la technique PIF dans le propagateur suivant le dispositif complètement randomisé avec trois répétitions. Les plantules ainsi produites étaient testées à nouveau. Les résultats montrent un taux d'infection de 8 % parmi les échantillons des feuilles testés avant macro-propagation (1er test) et de 0 % après macro-propagation (2ème test).
Des différences significatives (p < 0,05) se sont révélées entre les traitements pour tous les paramètres mesurés. La majorité des cultivars ont eu un taux de viabilité des explants de 100 %. Kimbuambua et Mfuba-Ndongila ont présenté la durée de reprise la plus courte (18,13 ± 0,80 jours). Le temps de sevrage le plus court (90,40 ± 3,14 jours) a été observé chez Mukama. Gros Michel s'est montré plus compétitif (42 ± 7,66 plantules) quant au nombre de plantules produites. Tous les cultivars ont été identifiés performants à la méthode PIF, mais à des niveaux différents.
Paka, Germaine Vangu; Mobambo, Patrick Kitume; Omondi, Bonaventure Aman; Staver, Charles.