Report: Documentation on released CIAT (and partner) forage varieties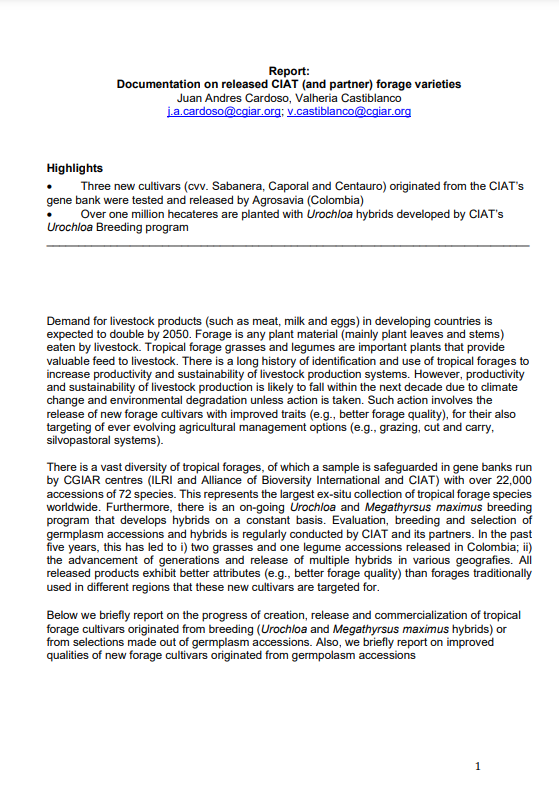 From
Published on

01.11.21

Challenges
Download
Demand for livestock products (such as meat, milk and eggs) in developing countries is expected to double by 2050. Forage is any plant material (mainly plant leaves and stems) eaten by livestock. Tropical forage grasses and legumes are important plants that provide valuable feed to livestock.
There is a long history of identification and use of tropical forages to increase productivity and sustainability of livestock production systems. However, productivity and sustainability of livestock production is likely to fall within the next decade due to climate change and environmental degradation unless action is taken. Such action involves the release of new forage cultivars with improved traits (e.g., better forage quality), for their also targeting of ever evolving agricultural management options (e.g., grazing, cut and carry, silvopastoral systems).
There is a vast diversity of tropical forages, of which a sample is safeguarded in gene banks run by CGIAR centres (ILRI and Alliance of Bioversity International and CIAT) with over 22,000 accessions of 72 species. This represents the largest ex-situ collection of tropical forage species worldwide. Furthermore, there is an on-going Urochloa and Megathyrsus maximus breeding program that develops hybrids on a constant basis. Evaluation, breeding and selection of germplasm accessions and hybrids is regularly conducted by CIAT and its partners. In the past five years, this has led to i) two grasses and one legume accessions released in Colombia; ii) the advancement of generations and release of multiple hybrids in various geografies. All released products exhibit better attributes (e.g., better forage quality) than forages traditionally used in different regions that these new cultivars are targeted for.
Below we briefly report on the progress of creation, release and commercialization of tropical forage cultivars originated from breeding (Urochloa and Megathyrsus maximus hybrids) or from selections made out of germplasm accessions. Also, we briefly report on improved qualities of new forage cultivars originated from germpolasm accessions
Cardoso, Juan Andrés; Castiblanco, Valheria.