Distribution and ecology of wild lettuces Lactuca serriola L. and Lactuca virosa L. in central Chile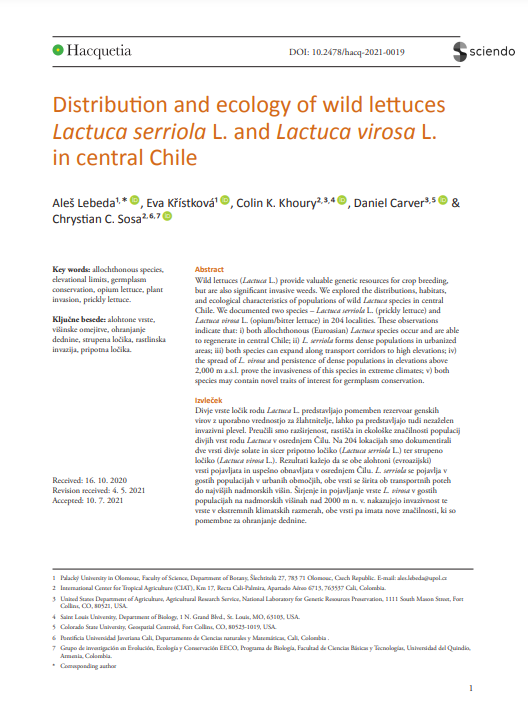 From
Published on

02.08.21

Challenges
Download
Wild lettuces (Lactuca L.) may provide valuable genetic resources for crop breeding, but are also significant invasive weeds. Monitoring populations of these species is important, therefore, both to inform genetic resource conservation efforts as well as for non-native plant species control. We explored the occurrences, distributions, and characteristics of populations of wild Lactuca species in central Chile through field surveys in 2016 and 2017, significantly adding to the available information on these species in the region. We documented two species – prickly lettuce (Lactuca serriola L.) and opium (bitter) lettuce (Lactuca virosa L.) in 204 localities. Occurrence only of L. serriola was recorded at 166 sites, only L. virosa at 21 sites, and both at 17 sites. Prickly lettuce was observed equally in urban areas and along transport corridors outside cities. Population sizes varied from a few plants to hundreds of individuals.
Opium lettuce was recorded most frequently along roads outside cities, with population sizes of several individuals to a dozen. Species succession in different elevational gradients was observed along three roads: R 60 (Los Andes – Portillo), G-27 (Cajón Maipú), and 115 (Lago Colbún – Lago del Maule). These observations indicate that: i) both allochthonous (Euroasian) wild Lactuca species occur and are able to regenerate in central Chile; ii) L. serriola forms dense populations in urbanized areas; iii) both species can expand along transport corridors to high elevations; iv) the spread of L. virosa and persistence of dense populations in elevations above 2,000 m a.s.l. prove the invasiveness of this species in extreme climates; v) both species should be monitored (and treated) both in urbanized and agricultural areas, as well as in unique local mountainous areas.

Lebeda, Ales; Křístková, Eva; Khoury, Colin K.; Carver, Dan; Sosa, Christian C.