What happens to deforestation when the conflict "ends"? Evidence from the implementation of the Peace Agreement in Colombia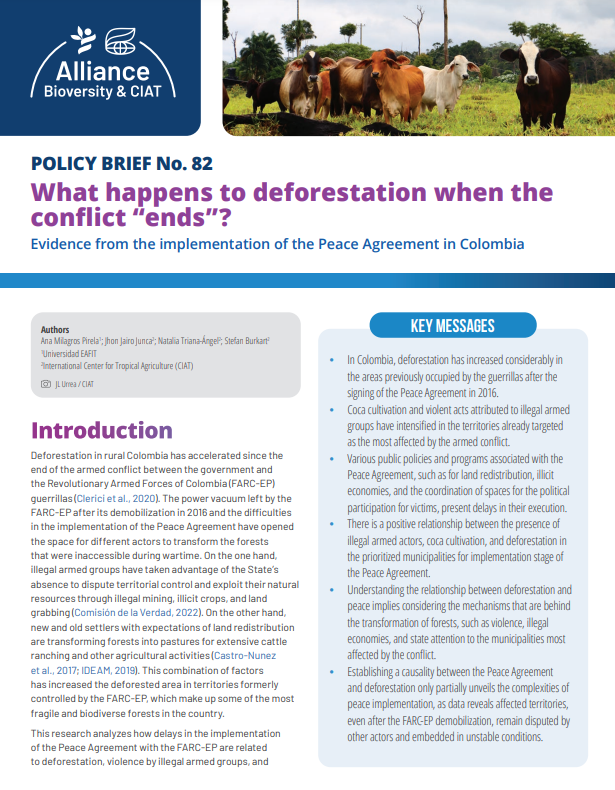 From
Published on

24.02.23

Challenges
Download
Deforestation in rural Colombia has accelerated since the end of the armed conflict between the government and the Revolutionary Armed Forces of Colombia (FARC-EP) guerrillas (Clerici et al., 2020). The power vacuum left by the FARC-EP after its demobilization in 2016 and the difficulties in the implementation of the Peace Agreement have opened the space for different actors to transform the forests that were inaccessible during wartime.
On the one hand, illegal armed groups have taken advantage of the State's absence to dispute territorial control and exploit their natural resources through illegal mining, illicit crops, and land grabbing (Comisión de la Verdad, 2022). On the other hand, new and old settlers with expectations of land redistribution are transforming forests into pastures for extensive cattle ranching and other agricultural activities (Castro-Nunez et al., 2017; IDEAM, 2019). This combination of factors has increased the deforested area in territories formerly controlled by the FARC-EP, which make up some of the most fragile and biodiverse forests in the country.
This research analyzes how delays in the implementation of the Peace Agreement with the FARC-EP are related to deforestation, violence by illegal armed groups, and illicit economies.
Pirela Rios, A.M.; Junca, J.J.; Triana Ángel, N.; Burkart, S.