Dissection of crop metabolome responses to nitrogen, phosphorus, potassium, and other nutrient deficiencies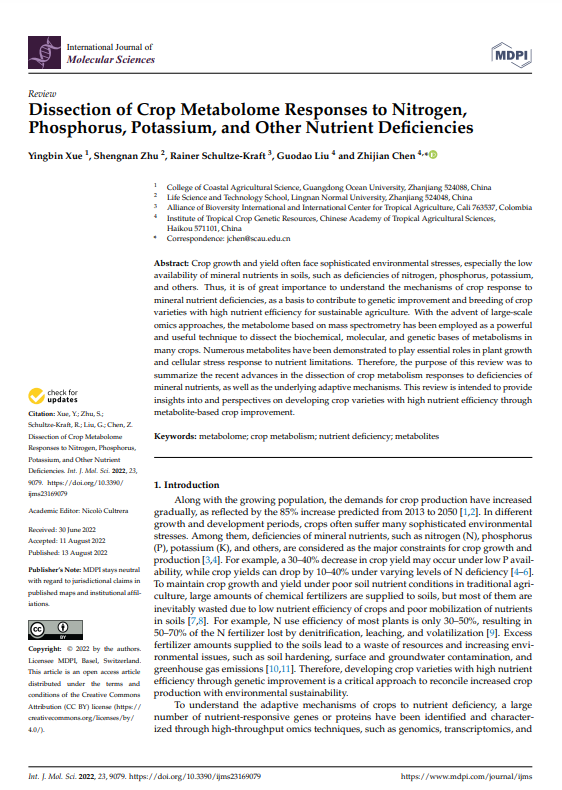 From
Published on

09.02.23

Challenges
Download
Crop growth and yield often face sophisticated environmental stresses, especially the low availability of mineral nutrients in soils, such as deficiencies of nitrogen, phosphorus, potassium, and others. Thus, it is of great importance to understand the mechanisms of crop response to mineral nutrient deficiencies, as a basis to contribute to genetic improvement and breeding of crop varieties with high nutrient efficiency for sustainable agriculture.
With the advent of large-scale omics approaches, the metabolome based on mass spectrometry has been employed as a powerful and useful technique to dissect the biochemical, molecular, and genetic bases of metabolisms in many crops. Numerous metabolites have been demonstrated to play essential roles in plant growth and cellular stress response to nutrient limitations.
Therefore, the purpose of this review was to summarize the recent advances in the dissection of crop metabolism responses to deficiencies of mineral nutrients, as well as the underlying adaptive mechanisms. This review is intended to provide insights into and perspectives on developing crop varieties with high nutrient efficiency through metabolite-based crop improvement.
Xue, Y.; Zhu, S.; Schultze-Kraft, R.; Liu, G.; Chen, Z.