A critical review of the current global ex situ conservation system for plant agrobiodiversity. I. History of the development of the global system in the context of the political/legal framework and its major conservation components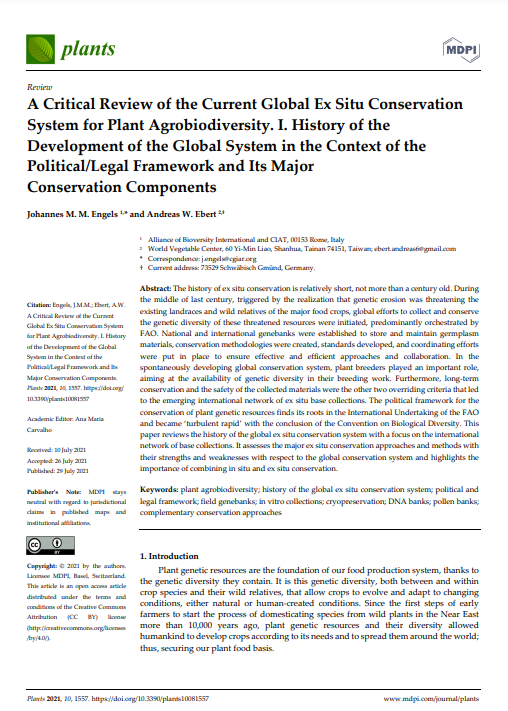 From
Published on

29.07.21

Challenges
Download
The history of ex situ conservation is relatively short, not more than a century old. During the middle of last century, triggered by the realization that genetic erosion was threatening the existing landraces and wild relatives of the major food crops, global efforts to collect and conserve the genetic diversity of these threatened resources were initiated, predominantly orchestrated by FAO.
National and international genebanks were established to store and maintain germplasm materials, conservation methodologies were created, standards developed, and coordinating efforts were put in place to ensure effective and efficient approaches and collaboration. In the spontaneously developing global conservation system, plant breeders played an important role, aiming at the availability of genetic diversity in their breeding work. Furthermore, long-term conservation and the safety of the collected materials were the other two overriding criteria that led to the emerging international network of ex situ base collections.
The political framework for the conservation of plant genetic resources finds its roots in the International Undertaking of the FAO and became 'turbulent rapid' with the conclusion of the Convention on Biological Diversity. This paper reviews the history of the global ex situ conservation system with a focus on the international network of base collections. It assesses the major ex situ conservation approaches and methods with their strengths and weaknesses with respect to the global conservation system and highlights the importance of combining in situ and ex situ conservation.

Engels, Johannes M.M.; Ebert, Andreas W.