Modelling the costs and benefits of breeding programmes using crop wild relatives reveals high potential returns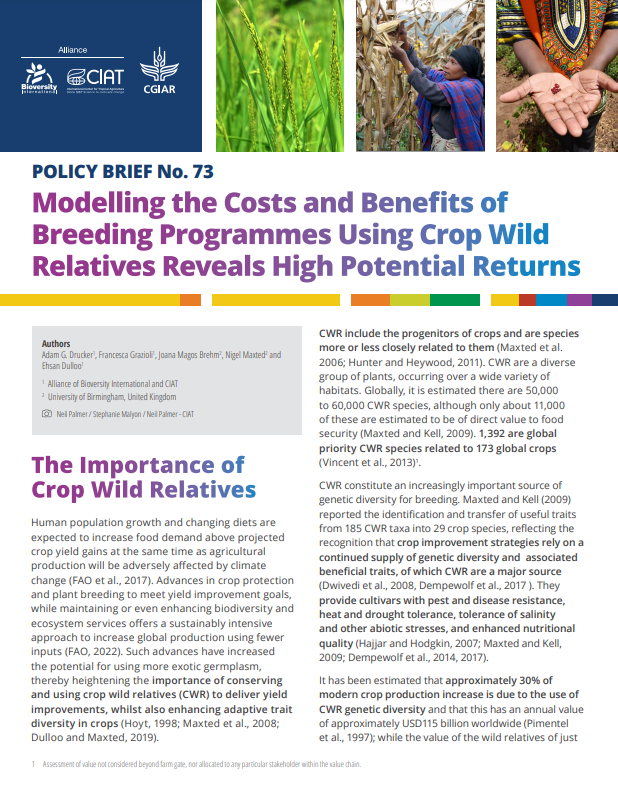 From
Published on

01.05.22

Challenges
Download
Crop improvement strategies rely on a continued supply of genetic diversity and associated beneficial traits, of which crop wild relatives (CWR) are a major source. They provide cultivars with pest and disease resistance, heat and drought tolerance, tolerance of salinity and other abiotic stresses, and enhanced nutritional quality. It has been estimated that approximately 30% of modern crop production increase is due to the use of CWR genetic diversity.
Despite their importance, CWR are globally threatened with extinction and genetic erosion of their innate diversity due to agricultural intensification, habitat destruction and a range of other threats including land-use change. A root cause of CWR conservation challenges is a lack of institutions and payment mechanisms by which the beneficiaries of CWR conservation services could compensate those who can supply them.
In this Brief we seek to model and identify the different costs associated with crop breeding programmes that use CWR-derived materials, with a view to contributing to an improved understanding of the costs and benefits that accrue specifically to breeders, as well as farmer benefit sharing potential.
Drucker, Adam G.; Grazioli, Francesca; Brehm, Joana M.; Maxted, Nigel; Dulloo, Ehsan.