Climate smart interventions and indicators in Ethiopia: Expert's knowledge and literature review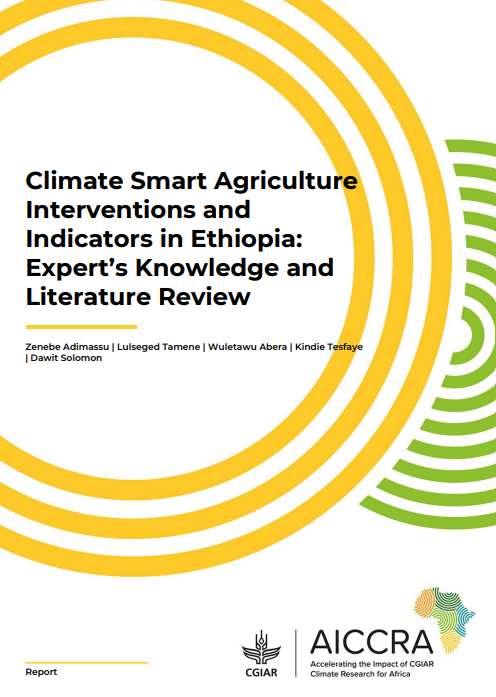 From
Published on

01.12.21

Challenges
Download
Agricultural sector is the backbone of Ethiopian economy which accounts about 36% of the Gross Domestic Products (GDP) and 66% of employment (Bekana, 2018). Nevertheless, the sector is highly affected by current climate variability, uncertainty and extremes and can decrease the GDP significantly (CIAT; BFS/USAID, 2017). Rise in average temperatures, changes in rainfall patterns, increasing frequency of extreme weather events such as severe droughts and floods and shifting agricultural seasons have been observed in different agro ecological zone of Ethiopia (Zegeye, 2018; Zerssa et al., 2021). Evidences indicate that climate in Ethiopia is already changing and the impacts are being felt at various places (Zegeye, 2018). The effect of climate change on crop yields, incomes, and human health is generally expected to be adverse (Amsalu and Adem, 2009), and this presents a looming challenge for hundreds of millions of people of Ethiopia (Gemeda and Sima, 2015). Evidences and experiences highlight that climate-smart agriculture (CSA) is best placed to support the growing global populations under the changing climate while sustaining the environment and reducing emissions (Tamene et al., 2021 ). Documentation of CSA interventions and performance indicators based on field evidence can help CSA policy makers and implementers at various
levels to make informed decisions and invest in CSA strategy. Hence, documentation of CSA interventions which are tested, validated, demonstrated, and implemented is crucial to increase food security, enhance adaptation and reduce greenhouse gas emission in Ethiopia (Tesfaye et al., 2020). The main objective of this work was to generate evidence on the smartness of selected CSA interventions and develop corresponding indicators of performance.
Adimassu, A.; Tamene, L.; Abera, W.; Tesfaye, K.; Solomon, D.