Financing climate change mitigation in agriculture: Assessment of investment cases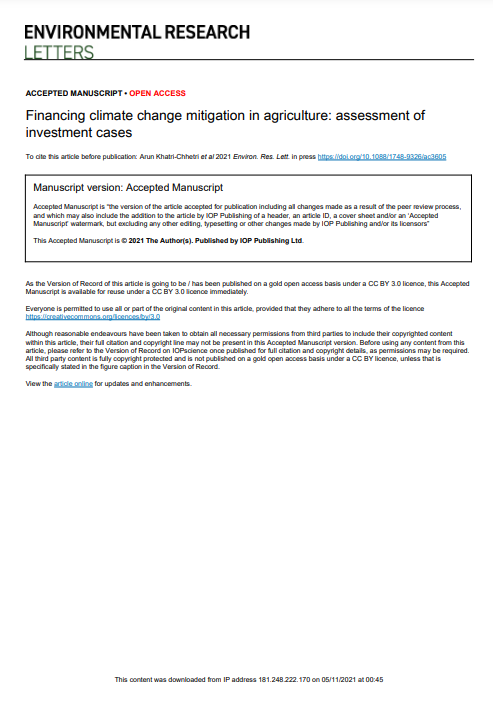 From
Published on

01.11.21

Challenges
Download
As with other sectors of the economy, agriculture should also contribute to meeting countries' emission reduction targets. Transformation of agriculture to low-carbon food systems requires much larger investments in low emission development options from global climate finance, domestic budgets, and the private sector. Innovative financing mechanisms and instruments that integrate climate finance, agriculture development budgets, and private sector investment can improve and increase farmers' and other value chain actors' access to finance while delivering environmental, economic, and social benefits.
Investment cases assessed in this study provide rich information to design and implement mitigation options in agriculture through unlocking additional sources of public and private capital, strengthening the links between financial institutions, farmers, and agribusiness, and coordination of actions across multiple stakeholders. These investment cases expand support for existing agricultural best practices, integrate forestry and agricultural actions to avoid land-use change, and support the transition to market-based solutions.
Khatri-Chhetri, Arun; Sapkota, Tek B.; Sander, Bojern O.; Arango, Jacobo; Nelson, Katherine; Wilkes, Andreas.