Where Can Agricultural Research Most Contribute to Winning More, and Losing Less? Key Insights and Implications for CGIAR from Science Forum 2018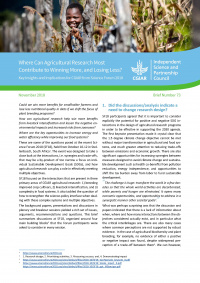 From

CGIAR Independent Science and Partnership Council (ISPC)

Published on

06.11.18

Challenges
This brief summarizes discussions at Science Forum 2018 (SF18), organized around four main building blocks (1. Research design; 2. Prioritizing activities; 3. Measuring success; and, 4. Demonstrating impact) that the Forum participants were asked to consider in every session.
Could we win more benefits for smallholder farmers and lose less nutritional quality in diets if we shift the focus of plant breeding programs?
How can agricultural research help win more benefits from livestock intensification and lessen the negative environmental impacts and increased risks from zoonoses?
Where are the key opportunities to increase energy and water efficiency while improving our food systems?
These are some of the questions posed at the recent SF18, held from October 10-12 in Stellenbosch, South Africa . The event was designed to take a close look at the interactions, i.e. synergies and trade-offs, that may be a by-product of too narrow a focus on individual Sustainable Development Goals (SDGs), and how agricultural research can play a role in effectively meeting multiple objectives.