Report from the banana collecting mission to the Province of West New Britain, Papua New Guinea from September 30th to October 12th, 2019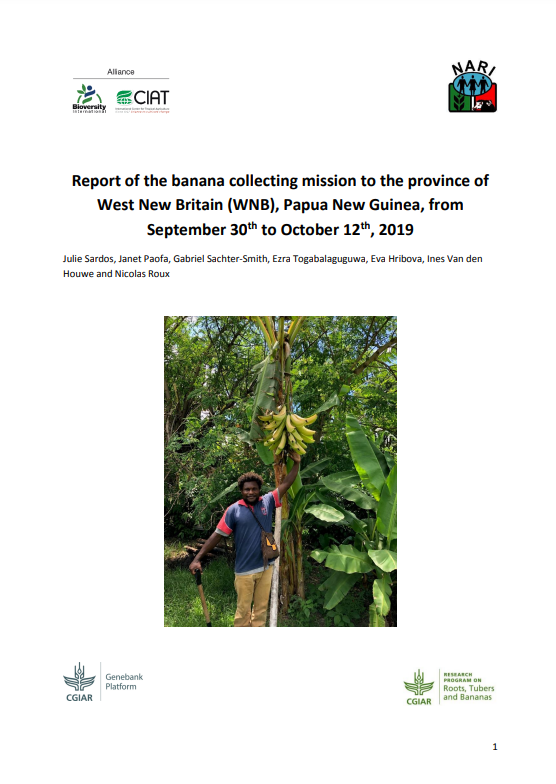 From
Published on

27.02.20

Challenges
Download

Papua New Guinea is home to hundreds of cultivated bananas as well as many banana crop wild relatives. Four collecting missions organized in 1988-1989 yielded the collection of 264 accessions, of which 86% were unique (Arnaud and Horry, 1997). In 2016, a fifth banana collecting mission was organized in the Autonomous Region of Bougainville (AROB) that could not be visited during the 1980's.
The collecting mission to AROB resulted in 61 accessions collected, of which nearly 40 were new genotypes (Sardos et al. 2018).The results of the collecting mission to the AROB showed that unique diversity of bananas was still to be found in the country.
In 2019, the Crop Trust funded a campaign of three banana collecting missions to the Pacific Island Countries. It was a good opportunity to visit a still unexplored region of Papua New Guinea.
Therefore, after Cook Islands and Samoa, we report here the third 2019 banana collecting mission that occurred in the West New Britain (WNB) province of Papua New Guinea (Fig. 1).
The WNB province is located on the island of New Britain which is the largest island of the Bismarck archipelago. Like many other islands of the region, New Britain was mostly formed by volcanic activity.
As a result, six volcanoes or volcano groups are still active on the island. It should be noted that Ulawun's last eruption, on October 1st 2019, hampered exploration of the north-east coast beyond Sulu.
The Bismarck archipelago is of historical importance for Pacific Island Countries as it is the motherland of the Lapita people, who are believed to be the ancestors of most of the modern Oceanic cultures.
Nowadays, people of New Britain practice the form of subsistence agriculture dominant to the region based on the vegetative propagation of crops, including bananas. Starting in the late 1960's, oil palm plantations were implanted along the north coast of WNB following several modalities.
In one of them, blocks of land were created and leased to smallholders (Elahi and Michael, 2017).
Consequently, families from other regions of the island and of the country settled on the North Coast of WNB, creating interesting connections to a wide range of Papuan areas.
Sardos, J.; Paofa, J.; Sachter-Smith, G.; Togabalaguguwa, E.; Hribova, E.; Van Den Houwe, I.; Roux, N.