An African perspective on the water-energy-food nexus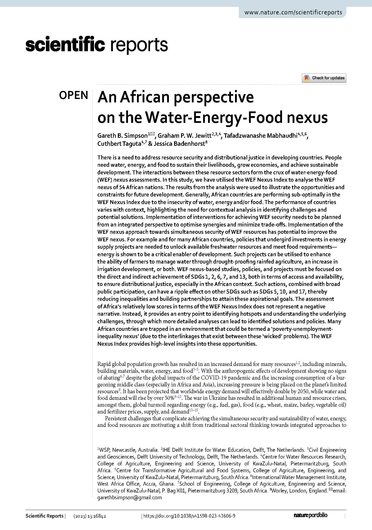 From
Published on

06.10.23

Challenges
Download
An African perspective on the water-energy-food nexus
Simpson, G. B.; Jewitt, G. P. W.; Mabhaudhi, Tafadzwanashe; Taguta, C.; Badenhorst, J.
There is a need to address resource security and distributional justice in developing countries. People need water, energy, and food to sustain their livelihoods, grow economies, and achieve sustainable development. The interactions between these resource sectors form the crux of water-energy-food (WEF) nexus assessments. In this study, we have utilised the WEF Nexus Index to analyse the WEF nexus of 54 African nations. The results from the analysis were used to illustrate the opportunities and constraints for future development. Generally, African countries are performing sub-optimally in the WEF Nexus Index due to the insecurity of water, energy and/or food. The performance of countries varies with context, highlighting the need for contextual analysis in identifying challenges and potential solutions. Implementation of interventions for achieving WEF security needs to be planned from an integrated perspective to optimise synergies and minimize trade-offs. Implementation of the WEF nexus approach towards simultaneous security of WEF resources has potential to improve the WEF nexus. For example and for many African countries, policies that undergird investments in energy supply projects are needed to unlock available freshwater resources and meet food requirements—energy is shown to be a critical enabler of development. Such projects can be utilised to enhance the ability of farmers to manage water through drought-proofing rainfed agriculture, an increase in irrigation development, or both. WEF nexus-based studies, policies, and projects must be focused on the direct and indirect achievement of SDGs 1, 2, 6, 7, and 13, both in terms of access and availability, to ensure distributional justice, especially in the African context. Such actions, combined with broad public participation, can have a ripple effect on other SDGs such as SDGs 5, 10, and 17, thereby reducing inequalities and building partnerships to attain these aspirational goals. The assessment of Africa's relatively low scores in terms of the WEF Nexus Index does not represent a negative narrative. Instead, it provides an entry point to identifying hotspots and understanding the underlying challenges, through which more detailed analyses can lead to identified solutions and policies. Many African countries are trapped in an environment that could be termed a 'poverty-unemployment-inequality nexus' (due to the interlinkages that exist between these 'wicked' problems). The WEF Nexus Index provides high-level insights into these opportunities.
Simpson, G. B.; Jewitt, G. P. W.; Mabhaudhi, Tafadzwanashe; Taguta, C.; Badenhorst, J. 2023. An African perspective on the water-energy-food nexus. Scientific Reports, 13:16842. [doi: https://doi.org/10.1038/s41598-023-43606-9]