Appraising agroecological urbanism: A vision for the future of sustainable cities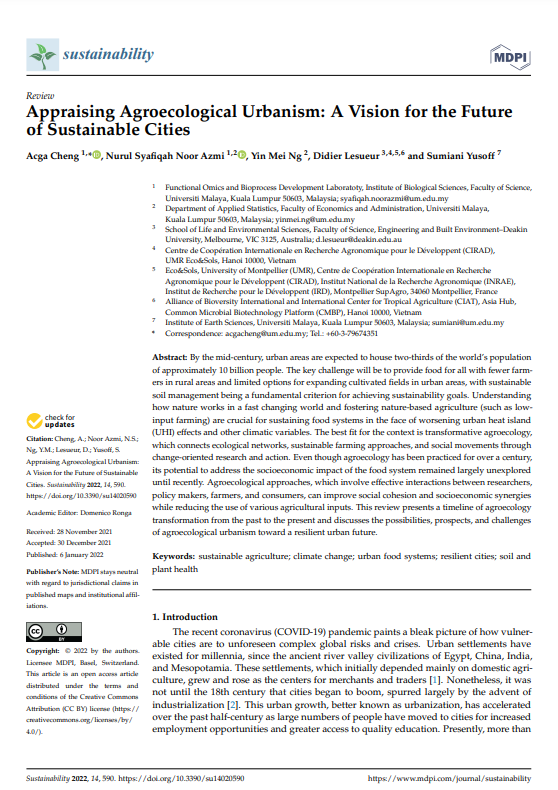 From
Published on

01.01.22

Challenges
Download
By the mid-century, urban areas are expected to house two-thirds of the world's population of approximately 10 billion people. The key challenge will be to provide food for all with fewer farmers in rural areas and limited options for expanding cultivated fields in urban areas, with sustainable soil management being a fundamental criterion for achieving sustainability goals.
Understanding how nature works in a fast changing world and fostering nature-based agriculture (such as lowinput farming) are crucial for sustaining food systems in the face of worsening urban heat island (UHI) effects and other climatic variables. The best fit for the context is transformative agroecology, which connects ecological networks, sustainable farming approaches, and social movements through change-oriented research and action.
Even though agroecology has been practiced for over a century, its potential to address the socioeconomic impact of the food system remained largely unexplored until recently. Agroecological approaches, which involve effective interactions between researchers, policy makers, farmers, and consumers, can improve social cohesion and socioeconomic synergies while reducing the use of various agricultural inputs. This review presents a timeline of agroecology transformation from the past to the present and discusses the possibilities, prospects, and challenges of agroecological urbanism toward a resilient urban future.
Chen, Acga; Noor Azmi, Nurul Syafiqah; Ng, Yin Mei; Lesueur, Didier; Yusoff, Sumiani.