Is agricultural digitization a reality among smallholder farmers in Africa? Unpacking farmers' lived realities of engagement with digital tools and services in rural Northern Ghana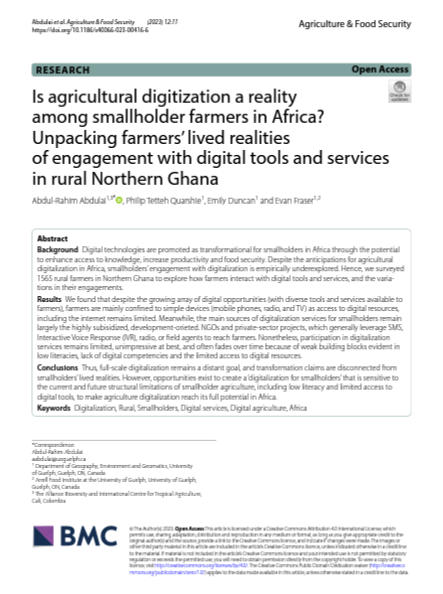 From
Published on

25.05.23

Challenges
Background
Digital technologies are promoted as transformational for smallholders in Africa through the potential to enhance access to knowledge, increase productivity and food security. Despite the anticipations for agricultural digitalization in Africa, smallholders' engagement with digitalization is empirically underexplored. Hence, we surveyed 1565 rural farmers in Northern Ghana to explore how farmers interact with digital tools and services, and the variations in their engagements.
Results
We found that despite the growing array of digital opportunities (with diverse tools and services available to farmers), farmers are mainly confined to simple devices (mobile phones, radio, and TV) as access to digital resources, including the internet remains limited. Meanwhile, the main sources of digitalization services for smallholders remain largely the highly subsidized, development-oriented. NGOs and private-sector projects, which generally leverage SMS, Interactive Voice Response (IVR), radio, or field agents to reach farmers. Nonetheless, participation in digitalization services remains limited, unimpressive at best, and often fades over time because of weak building blocks evident in low literacies, lack of digital competencies and the limited access to digital resources.
Conclusions
Thus, full-scale digitalization remains a distant goal, and transformation claims are disconnected from smallholders' lived realities. However, opportunities exist to create a 'digitalization for smallholders' that is sensitive to the current and future structural limitations of smallholder agriculture, including low literacy and limited access to digital tools, to make agriculture digitalization reach its full potential in Africa.
Abdulai, A.; Tetteh Quarshie, P.; Duncan, E.; Fraser, E.