2021 Global food policy report: Transforming food systems after COVID-19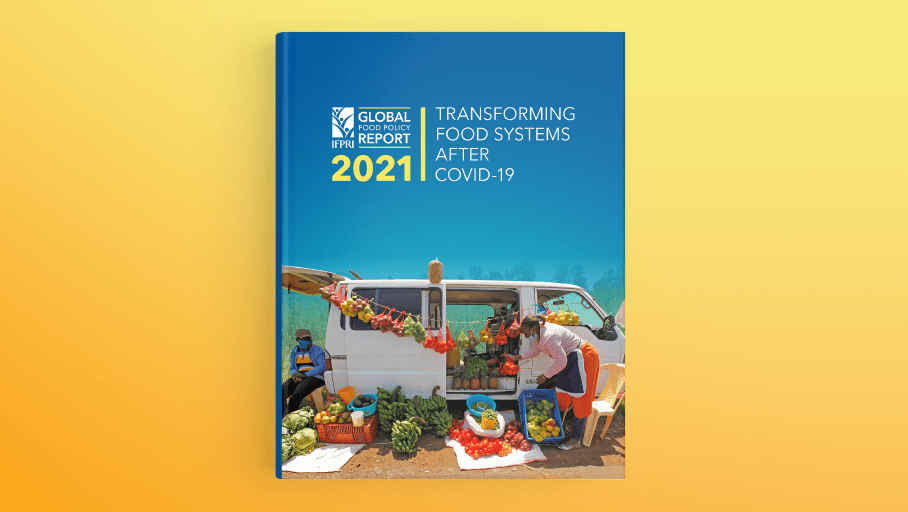 From
Published on

07.05.21

Challenges
Download
The coronavirus pandemic has upended local, national, and global food systems, and put the Sustainable Development Goals further out of reach. But lessons from the world's response to the pandemic can help address future shocks and contribute to food system change. In the 2021 Global Food Policy Report, IFPRI researchers and other food policy experts explore the impacts of the pandemic and government policy responses, particularly for the poor and disadvantaged, and consider what this means for transforming our food systems to be healthy, resilient, efficient, sustainable, and inclusive.
Chapters in the report look at balancing health and economic policies, promoting healthy diets and nutrition, strengthening social protection policies and inclusion, integrating natural resource protection into food sector policies, and enhancing the contribution of the private sector. Regional sections look at the diverse experiences around the world, and a special section on finance looks at innovative ways of funding food system transformation. Critical questions addressed include:
Who felt the greatest impact from falling incomes and food system disruptions caused by the pandemic?
How can countries find an effective balance among health, economic, and social policies in the face of crisis?
How did lockdowns affect diet quality and quantity in rural and urban areas?
Do national social protection systems such as cash transfers have the capacity to protect poor and vulnerable groups in a global crisis?
Can better integration of agricultural and ecosystem polices help prevent the next pandemic?
How did companies accelerate ongoing trends in digitalization and integration to keep food supply chains moving?
What different challenges did the pandemic spark in Asia, Africa, and Latin America and how did these regions respond?
Table of Contents
Chapter 1 Beyond the pandemic: Transforming food systems after COVID-19 [download]
– Johan Swinnen, John McDermott, and Sivan Yosef | Pages 6-23
Special Section: Financing the Transformation to Healthy, Sustainable, and Equitable Food Systems [download]
   -Eugenio Díaz-Bonilla, Johan Swinnen, and Rob Vos | Pages 20-23
Chapter 2 Resilience: From policy responses to resilient policy systems [download]
– John McDermott, Danielle Resnick, and Nichola Naylor | Pages 24-35
Chapter 3 Nutrition: Transforming food systems to achieve healthy diets for all [download]
– Marie T. Ruel and Inge D. Brouwer | Pages 36-42
Chapter 4 Natural Resources and Environment: Governance for nature-positive food systems [download]
– Channing Arndt, Claudia Ringler, Ruth Suseela Meinzen-Dick, and Wei Zhang | Pages 44-52
Chapter 5 Toward inclusive food systems: Pandemics, vulnerable groups, and the role of social protection [download]
– Neha Kumar, Agnes R. Quisumbing, Aulo Gelli, Ugo Gentilini, and Sara Shapleigh | Pages 54-62
Chapter 6 Food supply chains: Business resilience, innovation, and adaptation [download]
– Thomas Reardon and Rob Vos | Pages 64-73
Chapter 7 Regional Development [download]
– Sam Benin, Kwaw S. Andam, John M. Ulimwengu, Kibrom A. Abay, Clemens Breisinger, Dalia Elsabbagh, Hosam Ibrahim, Ahmed Kamaly, Mariam Raouf, Kamiljon Akramov, Roman Romashkin, Jarilkasin Ilyasov, Shahidur Rashid, Akhter Ahmed, Abdul Wajid Rana, Kevin Z. Chen, Yue Zhan, Eugenio Díaz-Bonilla, and Valeria Piñeiro Pages | 74-105