2020 Global food policy report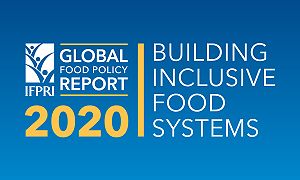 From
Published on

07.04.20

Challenges
Download
Food systems are at a critical juncture—they are evolving quickly to meet growing and changing demand but are not serving everyone's needs. Building more inclusive food systems can bring a wide range of economic and development benefits to all people, especially the poor and disadvantaged. IFPRI's 2020 Global Food Policy Report examines the policies and investments and the growing range of tools and technologies that can promote inclusion.
Chapters examine the imperative of inclusion, challenges faced by smallholders, youth, women, and conflict-affected people, and the opportunities offered by expanding agrifood value chains and national food system transformations. Critical questions addressed include:
How can inclusive food systems help break the intergenerational cycle of poverty and malnutrition? \What can be done to strengthen the midstream of food value chains to improve rural access to jobs, markets, and services?
Will Africa's food systems generate sufficient jobs for the growing youth population?
How can women be empowered within food system processes, from household decisions to policymaking?
Can refugees and other conflict-affected people be integrated into food systems to help them rebuild their lives?
How can national food system transformations contribute to greater dietary diversity, food safety, and food quality for all?
Regional sections look at how inclusion can be improved around the world in 2020 and beyond. The report also presents interesting trends revealed by IFPRI's food policy indicators and datasets.