Thematic Lead: Climate-Smart Agriculture Practices and Technologies-AICCRA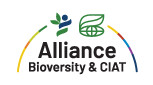 From
Published on

24.03.22
Category: Research & Development
Location: Nairobi Nairobi Kenya
The Accelerating Impacts of CGIAR  Climate Research for Africa project (AICCRA) is administered by the Alliance of Bioversity International and the International Center for Tropical Agriculture (CIAT) ("Alliance") on behalf of CGIAR. AICCRA is funded by the International Development Association (IDA). CGIAR brings together some of the world's best researchers in agricultural, climate and earth science to deliver innovative research-based solutions that catalyze positive change towards low-carbon and climate resilient food systems.
AICCRA will help make the products of cutting-edge CGIAR-led science available throughout Africa. AICCRA can play a vital catalytic role in strengthening the agriculture research architecture in Africa. Activities financed under AICCRA is being implemented by a broad coalition of CGIAR partners working at regional, sub-regional, and national level. AICCRA investments is concentrated in six anchor countries: Ethiopia, Ghana, Kenya, Mali, Senegal, and Zambia, but spill-over benefits are expected in other countries as AICCRA will also work with Africa's regional economic communities (RECs) and their associated regional agricultural research and climate change networks. The project runs from 2021 to 2023.
The Project Development Objective (PDO) is to strengthen the capacity of targeted CGIAR partners and stakeholders, and to enhance access to climate information services and validated climate-smart agriculture technologies in IDA-eligible countries in Africa. The project has four components: (a) knowledge generation and sharing; (b) strengthening partnerships for delivery; (c) validating climate-smart agriculture innovations through piloting; and (d) project management
AICCRA is seeking to recruit a Thematic Lead for "Climate-Smart Agriculture Practices and Technologies", who will take over from the current lead. The Thematic Lead will preferably be based at one of the African offices of the participating CGIAR Centers and be employed by an appropriate CGIAR Center.
SCOPE OF WORK
The Thematic Lead will provide leadership on the theme of Climate-Smart Agriculture (CSA) practices and technologies, Sustainable Finance, bundling of CSA practices and technologies with Climate Information Services and Sustainable Finance and be responsible for ensuring the successful implementation of activities related to this theme.
The duties and responsibilities of the Thematic Lead will include, among others:
Provide scientific leadership for planning, implementing, monitoring and reporting of the project's agenda related to CSA technologies and practices, bundling and sustainable finance.
Ensure overall Theme coherence and deliver on the Theme targets and outcomes. This includes responsibility for:

            I. Coordination of Theme activities among CGIAR Centres and relevant partners
            II. Coherence of the Theme workplan, annual planning, reporting and budget
            III. Providing technical backstopping of Theme activities to ensure quality of outputs and outcomes (reviews of the P&R, checking budgets,             supporting inter-Center discussions and planning).
            IV. To provide guidance and oversight on monitoring and evaluation on the project.
            V. To keep in close contact with the Regional and country Leads to ensure that the Theme research activities in each region contribute to the             overall achievements of the Project and that strong synergies are build.
Establish high quality and high-profile scientific outputs, ensuring its regular delivery

Provide support to the AICCRA leadership team to foster synthesis work

Oversee and execute fund raising actions for the Theme

Ensure the implementation of good internal communication on all Theme activities and meetings team so that other AICCRA core team members, appropriate country and regional leaders are familiar with the various plans in the Flagship.

REPORTING LINE/COMMUNICATION
The Thematic Lead shall report to the Project Coordinator of AICCRA.
Requirements
QUALIFICATION REQUIREMENTS
A PhD degree or MSc degree plus appropriate experience in a discipline relevant to policies and institutions for scaling CSA.

At least 10 years' experience in agricultural research for development in areas relevant to AICCRA (e.g. climate smart agriculture, scaling agricultural innovations, enabling conditions for agricultural development, policies and institutions, monitoring and evaluation)

Extensive regional experience (min. 10 years) of working in Africa.

Broad working experience (min. 10 years) at international organizations.

Proven experience and skills in managing projects and partnerships.

Proven capacity to work across multiple stakeholders, including government entities, civil society organizations (CSOs), local communities, and the private sector.

Excellent written and oral communication skills in English. Written and oral communication in French an added advantage.

REQUIRED COMPETENCIES
Leadership skills – understands how to motivate teams and partners and manage for results.

Knowledge and experience in scaling CSA practices and technologies – understands barriers to adoption; bundling of CSA with CIS underpinned by sustainable finance – distils operationally relevant recommendations/lessons for clients.

Partnership development Skills – Identifies and assesses policy issues and plays an active role in the dialogue with the government and/or other stakeholders.

Integrative Skills – Working to develop an integrated view across all facets of a large and complex project and the development context within which it is embedded.

Client Orientation – Takes personal responsibility and accountability for timely response to client queries, requests or needs, working to remove obstacles that may impede execution or overall success.

Drive for Results – Takes personal ownership and accountability to meet deadlines and achieve agreed-upon results and has the personal organization to do so.

Teamwork (collaboration) and inclusion – Collaborates with other team members and contributes productively to the team's work and output, demonstrating respect for different points of view.

Knowledge, Learning and Communication – Actively seeks knowledge needed to complete assignments and shares knowledge with others, communicating and presenting information in a clear and organized manner.

Business Judgment and Analytical Decision Making – Analyse facts and data to support sound, logical decisions regarding own and others' work.