Coordinator II, IT Operations (Rome, Italy)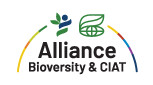 From
Published on

15.09.23
The Organization
The Alliance of Bioversity International and the International Center for Tropical Agriculture (CIAT) delivers research-based solutions that harness agricultural biodiversity and sustainably transform food systems to improve people's lives. Alliance solutions address the global crises of malnutrition, climate change, biodiversity loss, and environmental degradation.
With novel partnerships, the Alliance generates evidence and mainstreams innovations to transform food systems and landscapes so that they sustain the planet, drive prosperity, and nourish people in a climate crisis.
The Alliance is part of CGIAR, a global research partnership for a food-secure future.
https://alliancebioversityciat.org/                www.cgiar.org
About the position
Based at Alliance Headquarters in Rome, Italy, and under the supervision of the IT Operations and Service Desk Manager. The Coordinator will be working within the IT Operations and Service Desk (ITOSD) Unit in the Technology Integration Department (TI) and will manage local and regional IT-related operations for the Alliance Offices in Europe. The selected candidate will contribute to the alignment of the ITOSD services globally.
Responsibilities
Coordinates the Europe Region hardware/software lifecycle, from inventory review to replacement execution and forecast.
Liaises with relevant Europe Hub Logistics and Procurement offices to support the Hardware lifecycle management.
Provides the necessary end-user training in software and systems, to ensure an effective work environment.
Reviews policies and proposes improvements to the Unit's services, where needed.
Supports drafting and reviewing of documentation both for internal and external clients.
Liaises with external technical support and suppliers, where applicable.
Assists staff in regional offices with remote assistance tools, where applicable.
Manages the Active Directory and Exchange services including creating and maintaining user accounts, e-mails, local distribution lists, and security for local and regional users.
Provides and coordinates IT support for meetings and conferences, ensuring quality of IT services delivered.
Addresses requests for support in a timely manner by prioritizing and assigning calls to local ITOSD staff (SLAA).
Clone/Install/Configure/Maintain/Troubleshoot client hardware/software and follow procedures to maintain end-point best performances.
Supervises Technicians within the IT Operations and Service Desk Unit in Europe.
Coordinate the induction process for newly hired staff acting as a focal point for incidents and service requests.
Perform any other related tasks as required and assigned.
Requirements
Essential requirements 
Bachelor's degree in information technology or related fields.
Previous relevant experience and sound knowledge of computer information systems including operating systems, hardware, applications software packages and other office technology equipment.
Strong client orientation and service approach.
Well-developed skills in personal organization, priority setting, problem-solving.
Ability to work with a high degree of independence within assigned areas.
Flexibility and adaptability to work under tight deadlines.
Strong communication and interpersonal skills, including the ability to work effectively with other national and cultural backgrounds.
Excellent command of the English language, both written and spoken.
Desirable requirements
ITIL certification
Relevant technical certifications
Benefits
Terms of employment
This is a locally recruited position, based in Rome, Italy. All benefits are denominated and paid in Euro. The salary is level 7, on a scale of 14 levels, with level 14 being the highest. The salary range starts from Euro 47,640 per annum. The remuneration package includes a competitive salary, leave provisions, medical and life insurance, and non-contributory retirement plan. The contract will be for a period of 2 years, subject to a probationary period of 6 months, and is renewable based on performance and availability of funds.
Please note that eligible applicants must have the legal status to live and work in Italy:
Be Italian nationals holding a valid passport or identity card.
Or be EU citizens holding a valid passport or identity card and confirmation of registration from the Registrar's Office (Anagrafe).
Or Non – EU citizens holding a valid Italian work permit (permesso di soggiorno per lavoro subordinato).
Applications
Please apply online through the website ( https://alliancebioversityciat.org/careers ) no later than 6 October 2023, attaching a curriculum vitae, motivation letter, both in English, and contact information (e.g. names, email address) of at least three references. Please note that only shortlisted candidates will be contacted.
Closing date for applications: 6 October 2023
We invite you to learn more about us at:
http://alliancebioversityciat.org
Please visit our careers page at:
https://alliancebioversityciat.org/careers
VA – Coordinator II, IT Operations (Rome, Italy)