Assistant II, Gene-banks' Senior Director, CGIAR (Europe Region)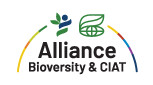 From
Published on

29.08.23
About CGIAR
CGIAR is a mission-driven, large-scale, intergovernmental organization and global research partnership with around $1 billion in programs to deliver science and promote innovations that advance the transformation of food, land, and water systems in a climate crisis. We are committed to ensuring that everyone has equitable and affordable access to the food they need for a healthy diet, within planetary boundaries. To achieve that goal, CGIAR's mission is to transform food, land, and water systems in a climate crisis. For more than 50 years, CGIAR has collaborated with partners to deliver impacts that have lifted hundreds of millions of people out of hunger and poverty and supported low-income producers and consumers across the global South. CGIAR's work is carried out in its research centers and regional and national offices, which span the globe, and in close collaboration with thousands of partners, including national and regional research institutes, civil society organizations, academia, development organizations, and the private sector.
Please find more information about CGIAR at www.cgiar.org, about One CGIAR here and about how we are advancing gender, diversity and inclusion (GDI) for an inclusive culture here.
The Alliance is part of CGIAR, a global research partnership for a food-secure future.
https://alliancebioversityciat.org/
 About the position
Based within the European Union, and under the supervision of the Gene-banks' Senior Director, the Assistant will be acting as a focal point for processing requests made by initiative Senior Director, in compliance with CGIAR policies and procedures, to contribute to the efficient delivery of projects responsible for the provision of travel services to staff, particularly to those staff members traveling to the European hub.
 Responsibilities
Raise requests for the acquisition of goods and services and follow up with the person responsible for implementation, liaising with accounting staff about payments.
Support and guide in the process and required documentation for the hiring of research staff including interns, visiting research fellows, and national and international consultants.
Assist with payment authorizations, travel arrangements (tickets and payment advances), and travel expenses claims.
Make logistical arrangements for meetings, seminars and conferences, and other events (including invitations, air tickets, hotels, etc.) and relevant follow-up
Prepare non-technical minutes of meetings as required by research staff.
Manage electronic (and hard copy) files and folders and ensure documents are made available as appropriate.
Organize the scheduling of meetings, calls and events.
Follow-up on correspondence or requests to Genebanks Initiative staff.
Assist the Senior Director/Initiative Lead, Communications specialist and, if necessary, other members of the Management Team.
Carry out other administrative duties as required.
 Requirements
Bachelor's degree in administration, industrial engineering, logistics, accounting, political sciences, international relations or related discipline cultural and national backgrounds.
Well-developed skills in personal organization, priority setting, problem-solving, and accuracy.
Relevant work experience in the field (minimum 5 years desirable).
Proficiency in Microsoft Office package (Word, Excel, PowerPoint, Teams and Outlook) and using of enterprise software systems.
Advanced command of the English language, both written and spoken.
Sound knowledge of standard office procedures.
Strong experience in processing procurement requisitions and managing schedules
Experience in organizing travel and logistics.
Experience of organizing large meetings.
Good communication skills to interact with partners, collaborators and staff at different levels of seniority from different countries.
Terms of employment
This is a locally recruited position which will be based within the European Union. All benefits are denominated and paid in Euro. The salary is level 5, in a scale of 14 levels, with level 14 being the highest. The salary range will be established in accordance with the regional/country standards. The remuneration package includes a competitive salary, leave provisions, medical and life insurance, and non-contributory retirement plan. The contract will be for a period of 1 year, subject to a probationary period of 6 months, and is renewable based on performance and availability of funds.
Please note that eligible applicants must have the legal status to live and work in the European Union. Citizens of EU countries and citizens of non-EU countries are individually responsible for compliance with requirements and formalities established by the national immigration law of the country where they stay and carry out their working activity.
 Applications
Please apply online through the website (https://www.bioversityinternational.org/jobs/) no later than 19 September 2023, attaching a curriculum vitae, motivation letter, both in English, and contact information (e.g. names, email address) of at least three references. Please note that only shortlisted candidates will be contacted.
Closing date for applications: 19 September 2023