Associate Officer, Proposal Enhancement (OPD) (Europe Region)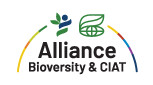 From
Published on

28.08.23
The Organization
The Alliance of Bioversity International and the International Center for Tropical Agriculture (CIAT) delivers research-based solutions that harness agricultural biodiversity and sustainably transform food systems to improve people's lives. Alliance solutions address the global crises of malnutrition, climate change, biodiversity loss, and environmental degradation.
With novel partnerships, the Alliance generates evidence and mainstreams innovations to transform food systems and landscapes so that they sustain the planet, drive prosperity, and nourish people in a climate crisis.
The Alliance is part of CGIAR, a global research partnership for a food-secure future.
https://alliancebioversityciat.org/           www.cgiar.org
 About the position
Home-based within the European Union and under the supervision of the Proposal Enhancement Senior Officer and Coordinator, and the overall guidance of the Head of the Office for Program Delivery (OPD), the Associate Officer, Proposal Enhancement, will be responsible for providing technical assistance, writing support, and strategic advice to Scientists in the pre-award stage of the Project Lifecycle (proposal preparation). The selected candidate will also enhance the strategic fit of the technical content of proposals submitted to funding partners, with the aim of increasing the Alliance's success rate, and maximizing our potential to secure funding for strategic initiatives. The position will liaise directly with Research, Project Financial Analysis and Support Team (PLANS), Partnership & Communication (P&C), OPD/Grants Management Unit (GMU) and other parties directly involved in proposal preparation.
Responsibilities
Ensure that the technical content of proposals submitted for enhancement to the PE team and assigned to the Associate Officer both meets the minimum quality standards of the Alliance and corresponds closely to the stated priorities and 'asks' of the Funder.
Provide targeted capacity building and technical assistance to Scientists on subjects where there is an identified institutional need or missing capacity.
Support and contribute to objectives setting and action planning for the unit, identifying emerging institutional needs and interests, and the development of unit/team protocols, formal practices, standards, and modalities of service provision.
Work directly with the assigned PI or Research Teams on enhancing the quality and strategic fit of their funding proposals.
Liaise with P&C, PLANS, and other OPD staff involved in the pre-award stage of the Project Lifecycle (proposal preparation) to ensure timeliness and responsive support service provision to the PI and/or the research team.
Engage Scientists and Research Levers' staff to identify capacity building needs.
In coordination with the Senior Officer, liaise with Strategic Performance and Results Management (under Pisa4Impact), Communications, and Knowledge Management units and staff to ensure coordinated delivery of capacity building products and resources.
Provide written and/or oral feedback to PIs or Research Teams on the quality and strategic fit of proposals submitted for enhancement, and recommendations for improvement.
Contribute written samples and/or whole sections of proposals to shape and enhance the overall quality.
Deliver technical assistance, training, and mentoring to PIs and/or team members on specific subjects.
Develop and publish evergreen resources (guidance notes, boilerplate text, capacity statements, etc.) as part of the OPD resource directory for Scientists.
Contribute to perform annual sampling and analysis of Alliance proposal quality and fit to identify areas of weakness.
Requirements
Bachelor's degree supplemented by master's degree in monitoring and evaluation, agricultural or biological sciences, international relations, science communications, international development, or related fields.
Minimum 5 years' relevant experience providing technical support to Scientists, experience in effective communications, and firsthand experience with research teams on management or development of projects or proposals.
Experience in preparation, revision and/or evaluation of agricultural research for development proposals.
Experience with crafting Theories of Change, Results Frameworks and/or Logical Frameworks.
Sound experience in capacity building and in production of analysis and guidance material.
Excellent interpersonal skills including the ability to work effectively in a multi-cultural environment.
Excellent organizational, prioritization and problem-solving skills.
Strong client service orientation.
Sound attention to detail and critical thinking, high standards of excellence and time management skills, and the ability to deliver on agreed deadlines.
Flexibility and ability to work under pressure with autonomy.
Fluent command of English, written and spoken.
Knowledge of French would be an asset.
Terms of employment
This is a locally recruited position which will be based within the European Union. The salary is level 8, on a scale of 14 levels, with level 14 being the highest. The salary range will be established in accordance with the regional/country standards. The remuneration package includes a competitive salary, leave provisions, medical and life insurance, and non-contributory retirement plan. The contract will be for a period of 2 years, subject to a probationary period of 6 months, and is renewable based on performance and availability of funds.
Please note that eligible applicants must have the legal status to live and work in the European Union. Citizens of EU countries and citizens of non-EU countries are individually responsible for compliance with requirements and formalities established by the national immigration law of the country where they stay and carry out their working activity.
Applications
Please apply online through the website (https://www.bioversityinternational.org/jobs/) no later than 17 September 2023, attaching a curriculum vitae (CV), motivation letter, both in English, and contact information (e.g. names, email address) of at least three references.
Please note that only shortlisted candidates will be contacted.
Closing date for applications: 17 September 2023
VA – Associate Officer, Proposal Enhancement (OPD) (Europe Region)