When forests feed the fish that feed our families
From
Published on

20.10.22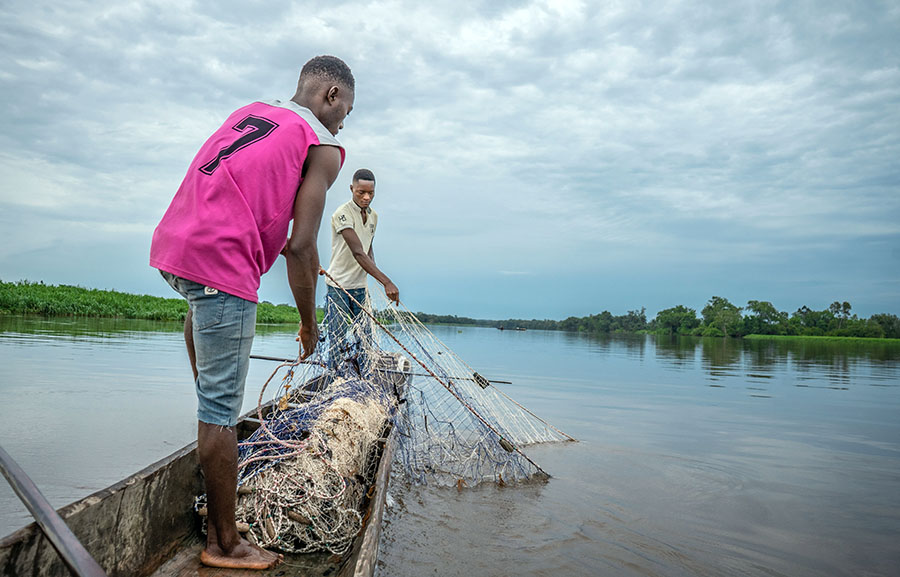 Land use and land cover change affects fish catch in Cameroonian rivers
It might seem odd to imagine fish foraging for food in forests, but that's exactly what happens in many floodplain ecosystems. When rivers rise in rainy seasons, some freshwater fish migrate out of their river channels and onto the surrounding floodplains, where they graze on seeds, fruits, leaves, invertebrates, and detritus.
Some of those fish find their way into the nets and onto the lines of fisherpeople, and from there into local households: inland fisheries underpin the livelihoods and food security of millions of people around the world. But what happens to fishing communities when those floodplain forests no longer stand; when they're felled and drained to be used in other ways?
Land-use and land-cover change (LULC) – such as felling forests for agriculture or cattle ranching – is often framed as a way to boost food security through the production and incomes it generates. But those changes can have negative impacts for other critical community resources – like inland fisheries.
An upcoming article in Water Biology and Security offers further insight into the issue. It details research in two medium-sized rivers in Cameroon, West Africa – the Boumba and the Kadey – which was led by researchers at Virginia Tech (VT) and compared fish catch, diet, and conditions in forested and non-forested sites of the two rivers.
To carry out the research, the team interviewed fishers about their activities and their catch at the time when they returned from fishing. For a sample of fishing trips, they also purchased the entire catch to assess fish condition – and to take a look at the insides of their stomachs to work out what they were eating and whether that food was connected to forests.
The researchers found that LULC explained 30% of the variation in fish catch for riverine communities, with the catch of five species being positively, and of two species being negatively, related to floodplain forests. The results "provide further support that forests are important for many fish species – but not all," said Amy Ickowitz, one of the study's co-authors and a senior scientist at the Center for International Forestry Research – World Agroforestry (CIFOR-ICRAF).
Previous research has also highlighted the importance of forests for many freshwater fish species, but the study was able to add nuance by showing that "the [species of] fish that benefit from forests are much more important to local fish catch (and hence likely local peoples' diets) compared to those for which forests are not important – over five times more in the Kadey river, and six times more in the Boumba river," said Ickowitz.
The decline in catch rates for key species has important implications for local diets: it's "terrible news, given that this is the principal source of animal protein of many, many people in the region," said lead author Leandro Castello, an associate professor in VT's Department of Fish and Wildlife Conservation.
While the downward trajectory for fish catch in the two rivers is worrying, "it's good that we know about this bad news, so people can work to reverse current trends," said Castello. "There are lots of things that can be done – and they all start with interested parties talking to each other about it."