What are the socioeconomic factors that influence CSA adoption?
From
Published on

21.01.19

Impact Area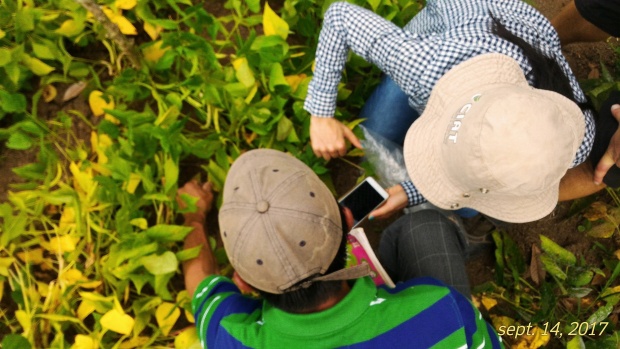 To better understand the socioeconomic factors that foster or slow down the adoption of climate-smart agriculture (CSA) practices within smallholder farming communities, a new methodological framework has been developed and piloted by researchers in Colombia from the CGIAR Research Program on Climate Change, Agriculture and Food Security (CCAFS) and the International Center for Tropical Agriculture (CIAT). The work was carried out in the context of the implementation of the Climate-Smart Village (CSV) agricultural research for development (AR4D) approach.
A three-step methodology
The recently published working paper presents a three-step methodology for assessing:
Which specific CSA options promoted in the CSV site have been adopted by farmers?
Who within the community is adopting which CSA option(s) or, in other words, what different types of adoption profiles can be identified among the farmers at the site?
What are the motivations and enabling/constraining factors for adoption of CSA for each type of farmer

?

The three-step methodology.
The main added value of this work is twofold:
it establishes a composite analytical framework that goes beyond assessing multi-dimensional enabling/constraining factors (assets, flexibility, knowledge and learning, social organization, and agency) by adding new dimensions such as the influence of farmers' perceptions of climate change and CSA efficiency; and
it does not apply a "socially blind" lens but rather a socially differentiated approach, identifying farmers' types associated with adoption.
The results of the pilot study illustrate the use of mixed-methods that builds on quantitative data gathered through semi-structured interviews of direct CCAFS beneficiaries and non-CCAFS-related farmers.
CSA adoption
The fulfillment of any of the following three criteria defined a CSA practice as adopted:
The CSA practice was implemented for more than one cropping season
The farmer invested some resources to implement it
The farmer made changes in the promoted practice (extension, modification)

The frequency of adoption of CSA options by CCAFS direct beneficiaries and not CCAFS related farmers in the Cauca CSV.
Construction of farmer adoption typology
A multiple-factor analysis (MFA) and a cluster analysis led to the identification of three different farmer types in the Cauca CSV, each one presenting a different level of CSA adoption.
Type 1: Older large-scale displaced adopters
Type 2: Middle-age medium-scale non-displaced adopters
Type 3: Smaller-scale non-adopter who perceive climate change risks and feel unprepared

Adoption of CSA options per farmer type.
The proportion of farmers adopting a given CSA practice was higher for the older larger-scale displaced farmers (type 1) than for the other types.
In the three types of farmers the most adopted practices were compost (13% to 30%), water harvesting (13% to 28%) and home-garden (23% to 30%). Improved beans, however, were mainly adopted by type 1 (28%) and not adopted at all by Type 3.  
Motivations, enabling and constraining factors
The work also examined the motivations that lead to the adoption of specific CSA practices among the two types of adopting farmers, as well as associated enabling and constraining factors.

Most frequent motivations for Type 1 and Type 2 farmers to adopt compost, water harvesting or home gardens.

Socio-economic factors enabling and/or constraining adoption of compost.
Key findings
In the case of the Cauca CSV adoption seemed associated with farmers that feel more prepared against climate change and have larger and more diverse farms. On the contrary, fewer on no-adoption was found in smaller-scale farmers (less than 1 ha) that feel the risks, perceive changes in the intensity of climate events, but also feel unprepared to future impacts.
Motivations leading to adoption were practice-specific rather than farmer-type-specific and mainly related to ensuring food security and improving productivity, highlighting that at the study site those concerns are more important to farmers than building resilience or increasing adaptive capacity.
Physical and natural assets and knowledge and learning were the two most mentioned factors that facilitated/slowed down CSA adoption, supporting the idea that adoption processes are very closely linked with a mix of changes in farmers' knowledge, attitudes and skills.
Adoption processes can be fostered by prioritizing specific CSA practices that have a direct connection with farmers' most urgent short-term needs.
Conclusions and learnings
By generating concrete recommendations on how to adjust current and future interventions to be more socially inclusive, this new methodology supports CCAFS' and its partners' CSA planning, implementation, monitoring and learning emerging from the CSV participatory AR4D.
The piloting of this framework demonstrates that CSA adoption is complex (involving socioeconomic, enabling, and constraining factors, perceptions, and motivations), and stresses the need for specific strategies that account for the diversity of both the farmers and their practices when it comes to the design of CSA interventions that aim to foster adoption.
Read more:
---
About the authors: Osana Bonilla-Findji is the Science Officer for the CCAFS Flagship on Climate-Smart Agricultural Technologies and Practices. Fanny Howland is a Research Associate at CIAT.