West Africa | 40 000 producers will benefit from a new European plant breeding project
From
Published on

02.07.20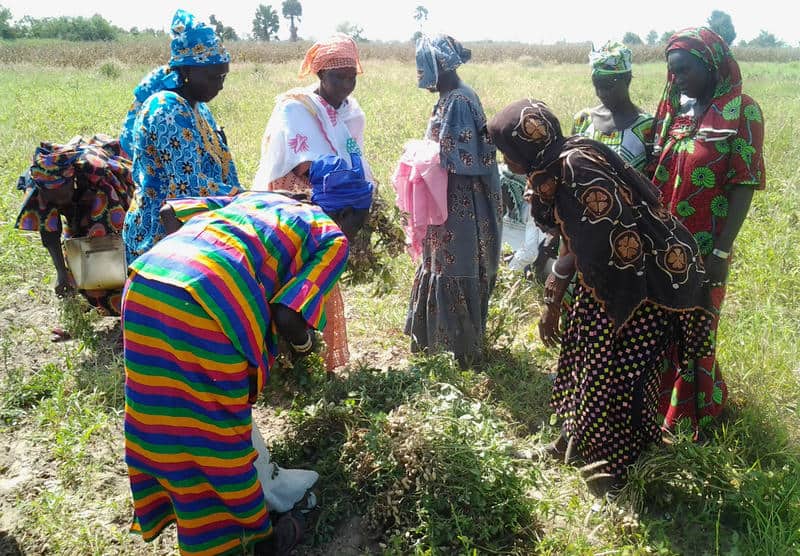 Photo: Groundnut producers from the Fatick region (Senegal) visiting demonstration plots of new varieties Photo: Hodo-Abalo Tossim
Plant breeding is a key challenge for resilience to climate change among agricultural producers. A new far-reaching project is aimed at strengthening networks and institutional capacities in this field in three West African countries. With almost 9 million euros of funding, it is coordinated by CORAF and implemented by a consortium of national and international institutes, including CIRAD, within the framework of DeSIRA, the major EU funding programme.
The ABEE project (West Africa Breeding Networks and Extension Empowerment) concerns five crops: cowpea, groundnut, millet, sorghum and fonio. These crops are essential to food security for local populations, but are also potentially highly sensitive to climate change. They are prominent in West African markets, especially in Burkina Faso, Niger and Senegal, countries covered by the project.
"Plant breeding for the main food crops is an important tool to effectively address growing demand for food and population growth ", says Abdou Tenkouano, Executive Director of CORAF.
The ABEE project will provide a better approach to the coordination of plant breeding at the regional and national levels . A knowledge base will serve as a source of information for breeding programmes. Existing networks will be strengthened in order to facilitate the exchange of genetic material. "The project will strengthen the existing regional network of breeders within the framework of the platform in partnership for research and training on Innovation and Plant Breeding in West Africa (dP IAVAO) ", says Sylvie Lewicki, CIRAD's Regional Director for West Africa – Dry Zone.
Breeders will be central to this research process. "They will meet within well-equipped stations and laboratories using modern breeding techniques ", says Alioune Fall, Director-General of ISRA.
Read more on the goals and output indicators: http://gldc.cgiar.org/west-africa-producers-will-benefit-from-a-new-european-plant-breeding-project/