WEBINAR: Multiple Benefits of Climate Adaptation for Poverty Reduction and Gender Equality
From

CGIAR Initiative on Gender Equality

Published on

18.10.23

Impact Area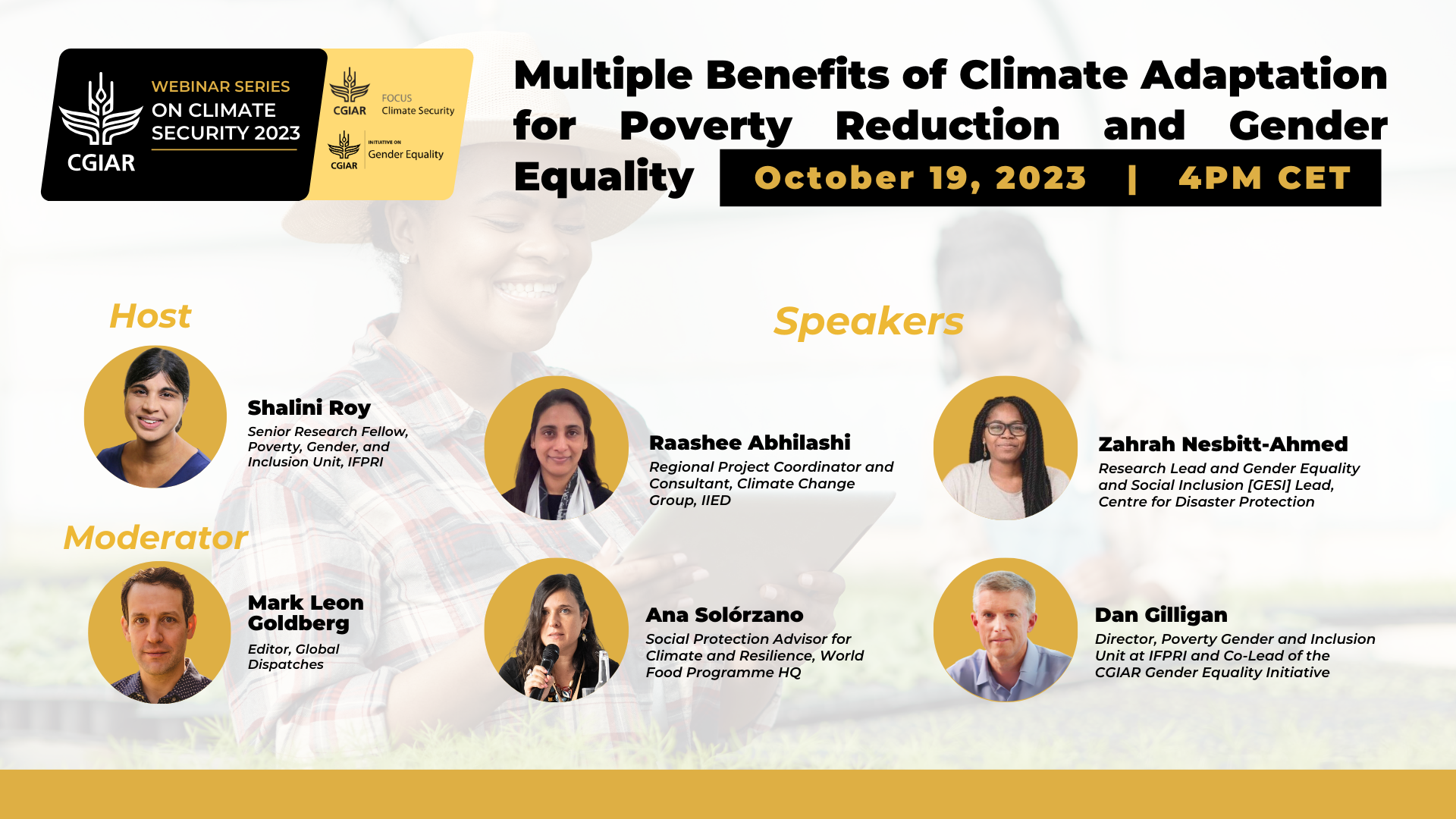 Are you interested in the role of climate adaptation to tackle poverty and promote gender equality? Join our upcoming webinar to explore the transformative potential of these critical intersections.
🗓️ Date: Thursday, 19th October 2023
🕓 Time: 16:00 – 17:00 CET
Climate adaptation isn't just about protecting the environment; it's a key tool for building a more equitable world.
This webinar will delve into the following crucial topics:
🌱 How climate adaptation investments can lift communities out of poverty
🚺 The role of gender considerations in climate resilience and poverty alleviation
🌍 Global experiences and success stories in integrating climate action with social protection and rural development
Investments in climate adaptation hold immense promise for poverty reduction and gender equality. We've witnessed inspiring examples of shock-responsive social protection and climate-smart agriculture evolving over the past decade to address climate risks intentionally. However, their design must carefully balance the goals of climate adaptation, poverty reduction, and inclusion.
Climate risks are context-specific, and different communities have unique needs, constraints, and opportunities. Gender considerations are paramount, as women and girls are disproportionately affected by climate change and often face greater barriers to adaptation. Ensuring their active involvement in and benefit from climate adaptation initiatives is essential for fostering equality.
While there have been successful examples of linking climate-smart agriculture with poverty reduction, many initiatives struggle with limited coverage, management capacity, and funding predictability. Documentation of the long-term impacts on ecosystem resilience, poverty reduction, and social inclusion is also lacking.
Our webinar will reflect on practical challenges and opportunities, drawing from global experiences. We'll explore how policies and programs in social protection and rural development sectors can synergize to scale up local successes. Together, we'll uncover strategies to create a more resilient, inclusive, and poverty-free future.
Don't miss this opportunity to engage with experts, share insights, and be part of the solution.