WEBINAR: Merging ecosystem-based adaptation and insurance/finance: why we need it!
From
Published on

29.06.20

Impact Area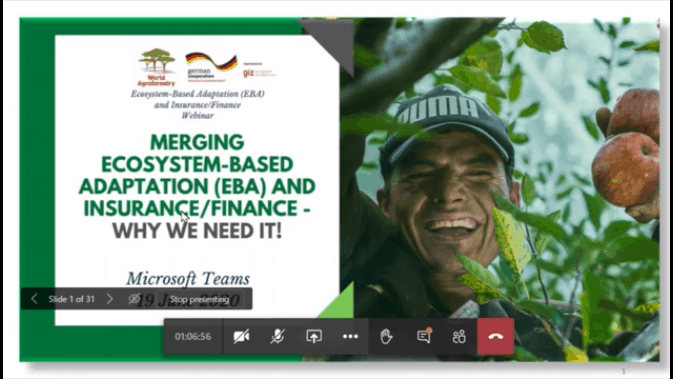 In this exciting webinar, held 19 June 2020, experts discussed the opportunities and challenges for integrating ecosystem-based adaptation and insurance/financing.
Agricultural insurance increases farmers' resilience and ability to adapt to financial and climate shocks. However, it is largely weighted toward production of a few monocultural crops. Adapting insurance products to support diversification of farm portfolios to further increase resilience to climate and financial risks is a challenge for many institutional investors.
In the webinar, we hear from leading experts in both fields who discuss how insurance and financial instruments can support the transformation of the world's food system toward achievement of climate mitigation, smallholders' adaptation and a sustainable food supply.
The webinar was hosted by Deutsche Gesellschaft für Internationale Zusammenarbeit GmbH (GIZ) in collaboration with World Agroforestry (ICRAF), German Federal Ministry for Economic Cooperation and Development and MEFIN Network.